NIDA has a National Drug Facts Week (this year it's October 31-November 6), where they supposedly "encourage teens to get factual answers from scientific experts about drugs and drug abuse." Except they don't, really. They lead teens through highly selective propaganda to learn only those facts that fit the goals of NIDA. Their site is here.
The problem is, of course, that selective and biased facts are as bad as no facts.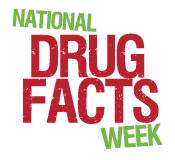 Well, now there is an alternative.
The new and improved National Drug Facts Week at DrugFactsWeek.com – for the real facts.
Let me know if there's anything you think I should add to the Drug Facts Week page. I expect to expand it as time permits.
And feel free to link to it. Let's get the Google rankings up for this page – maybe we can top NIDA's.
(The key is to use the words "Drug Facts Week" or "National Drug Facts Week" as the link text, or next to the url if tweeted.)