Just a quick guide to some of the features of the Drug WarRant site (If you want to know about the editor, scroll down.)
Commenting
We encourage a healthy and enthusiastic debate here. While most commenters are on the side of reform, we occasionally get visitors from other points of view and they are quite welcome. Additionally, our commenters often have widely different views on how reform should occur. Please don't use name-calling against other commenters. Debate should be civil. If you're so upset that you absolutely must call someone out, you can use the acronym FOAD.
Your comments should show up immediately, as long as the spam filter doesn't think it looks like spam. (The worst that would happen is there would be a delay for me to approve the comment if the spam filter stops it. I always look through the caught spam before deleting them.)
If you'd like your own custom avatar, go to http://en.gravatar.com/ and register. You can upload your own image tied to the email address you use to sign in here. Or you can just enjoy the nice design that's automatically assigned to your comment.
You can use some standard html in your post, such as links, bold, italic, and blockquote. Please use html when providing links. Do not simply type in the long url in the post (alternately, you can use a url-shortening service). Here are some allowed html tags:
Type This
Get this
<a href="http://mylink.com">My Link</a>
My Link
You can also <a href="http://mylink.com" title=
"Text visible while hovering">create a link</a> with a title, so that hovering over it shows the text.
You can also create a link with a title, so that hovering over it shows the text.
This is <b>bold</b> text.
This is bold text.
This is <i>italic</i>.
This is <em>emphasis</em>.
This is <strong>strong</strong>.
This is <strike>strike</strike>.
This is <code>computer text code</code>.
This is italic.
This is emphasis.
This is strong.
This is

strike

.
This is computer text code.
Here is: <blockquote>Some text in a blockquote.</blockquote>
Here is:

Some text in a blockquote.
This should handle most needs. Also allowed are the 'abbr,' 'acronym,' 'cite,' 'del,' and 'q' tags for those interested in html.
Sending Tips
I get a lot of my stories and information from readers who send me tips. I enjoy getting them and they're incredibly helpful. Please let me know what name to use and I'll try to remember to give you a credit in the post (If you don't say anything, I'll just use your first name — many people prefer a degree of anonymity here and I don't want to take chances). I don't have time to respond to every tip I get, and there are a lot of times that I'll get the same story from various sources.
I also, for any number of reasons, may choose not to include the story or link you send. This is not intended to be (nor can it be) a comprehensive site of every drug war story that's going on out there. Try MAP for that. I talk about drug war items that stimulate me, or amuse me, or outrage me at a particular moment.
RSS Feeds
One of the great ways to keep track of posts in a variety of sites is to use a newsreader. Drug WarRant has RSS feeds for both the blog posts and the comments. You can subscribe to them and see them in your news reader. This is useful for people who don't have time to visit Drug WarRant every day (although we'd certainly like you to drop by and join the discussion.
Privacy
Certain information is collected about visitors in order to help functionality of the site. IP addresses are recorded for those who comment for the purpose of blocking spammers only. This is a function of the blogging software and Drug WarRant has no control over it. The commenting software may also leave cookies to allow easier log-in.
This site also employs Google Ads to help pay for internet costs. Google ads have their own systems for tracking users. Google uses cookies to serve the ads on this site, and Google uses DART cookies, which enables it to serve ads to users based on their visits here and to other sites. Users may opt out of the DoubleClick cookie that Google uses.
Site History
Drug WarRant was started on July 26, 2003 as a blog hosted at Salon Blogs at http://blogs.salon.com/0002762 using Radio UserLand blogging software. Between July 26, 2003 and August 8, 2009, Drug WarRant had over 3.8 million page views (moving up to 3rd in the all-time popularity of Salon Blogs) with over 3,500 posts and over 20,000 comments.
On August 8, 2009, facing the imminent shutdown of SalonBlogs and Radio, Drug WarRant moved to a WordPress format and a private server at DreamHost. All the posts were able to be converted, but all comments (which were stored on Salon Blogs' servers) were lost. So if you visit old posts, the lack of comments probably means that they didn't make the transition.
---
About the Editor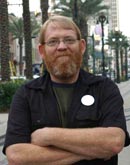 Pete Guither [pronounced gī'-thər] is a drug policy reform expert and an unapologetic advocate of ending prohibition as it exists today. He is editor of the popular drug policy reform blog: Drug WarRant.com, and Executive Director of the Prohibition Isn't Free Foundation.
Some of Pete's drug policy reform accomplishments and activities:
Panelist: "Got a Minute? Concise Effective Arguments for Reform" at the national Students for Sensible Drug Policy conference (November, 2008)
Panelist: "Elevator Arguments" at the 2007 International Drug Policy Reform Conference (December 2007)
Panelist: "Got a Minute? Concise Effective Arguments for Reform" at the national Students for Sensible Drug Policy conference (November, 2006)
Moderator: "Tough Trade-Offs: The Drug Legalization Debate" at University of Illinois College of Law. (November, 2006)
Featured Speaker: "Understanding, and Finding Solutions to, Today's Prohibition" at Golden K Kiwanis, Quincy, Illinois (November, 2006)
Profiled: Chicago Tribune War-On-Drugs Exhibition Starts Free-Speech Battle by John Keilman…


Pete Guither's attempt to criticize the war on drugs has become a war of its own….

Mentioned: Washington Post Drug-Terror Connection Disputed by Kari Lydersen
Featured Speaker: 2005 Libertarian Party of Illinois convention (February, 2005)
Investigative Exposé: Andrea Barthwell's falsified sponsorship for her Illinois Marijuana Lectures series (February, 2005)
Author: Raich v. Ashcroft – A Guide to the Supreme Court Case (2004-2005)
Editor: Drug War Victims (ongoing)
Editor: Why is Marijuana Illegal (December, 2003)
Author: "Cannabis Plant, Drug Prohibition, and Illinois Economic Development" presented to the transition team of Governor-elect Rod Blagojevich as part of the Stevenson Center Illinois Economic Development Policy Conference (December, 2002)
Additionally, Pete has been the featured speaker at numerous HempFests and other similar political events, and has been interviewed for a wide variety of print and electronic media on drug war issues. Pete is faculty advisor for the Illinois State University chapter of Students for Sensible Drug Policy.
---
I'm honored to have been chosen by NORML and High Times as a Freedom Fighter, in the February, 2009 issue of HIgh Times.

Freedom Fighter

Blog Star

Pete Guither leads a war against propaganda

As the art of blogging evolves, few have utilized this tool as effectively for anti-marijuana-prohibition advocacy as Pete Guither. Check him out at DrugWarRant.com and enter the Drug War Rant community. Both of these outlets were the result of Pete's anger at the continued prohibition of cannabis. What started out as research and writing primarily for his own edification has blossomed into a powerful online forum and community of drug-policy reformers that provides a valuable service by supplying activists with news and information on the latest scientific, legal and political developments.

Pete is motivated by the belief that legalizing and regulating marijuana cultivation, distribution and possession for recreational purposes is crucial. "I want to take the black market out of the equation," he says. "The only way to do that is with full legalization and not a halfway solution. The path to get there requires that people stop being afraid to talk about marijuana and the Drug War."

The good news is that more and more people are speaking out. "The blogs and the traditional reform organizations like NORML, and the newer groups like Law Enforcement Against Prohibition and Students for Sensible Drug Policy, are developing a network of reformers from all walks of life armed with the facts," Pete says. "But we're still facing a tough battle — decades of propaganda. We have to get the facts, we have to speak out, and we have to keep doing it.!"

Thanks to Pete Guither, the anti-prohibition community has gained a powerful new voice. Long may he continue to share his insight, his knowledge and the occasional rant.

— Carlos Castillo, NORML Outreach Coordinator
---
OK, that's the bio stuff — Now, I suppose you want to know a little bit more about how I think and my other interests.
Hmmm… here's a start.
I'm a strong advocate for drug policy reform. Our policies in the U.S. and throughout much of the world are much more damaging than any possible damage from the drugs themselves. Enforcement approaches make drug dealers and drug warriors rich, at the expense of the rest of us. Government has a vested interest in continuing the war.
What would I do? For one thing, drugs should not all be treated the same, but I would definitely remove the black-market element, and that means legalization and regulation. Marijuana should be legalized and regulated somewhat like alcohol. Some drugs should be handled through treatment or maintenance regimes, some through simple regulation. All should use harm reduction as the driving concept rather than imprisonment. The most important thing is we need to be able to discuss drug policy openly and consider various approaches without the distortion and hysteria of the drug warriors.
There's one primary source that I use as my inspiration and guidance in my political beliefs. You can view it here.
I am passionate about drug policy reform and I love talking about it. And I am available and willing to debate any drug prohibitionist anywhere, anytime. If it's a big name (like John Walters or Michele Leonhart or Gil Kerlikowske), I'll pay my own way.
Other interests:
I am faculty advisor for Theatre of Ted, an underground weekly theatre event, where I have presented rants on the drug war for many years.
For my day job, I am Assistant Dean of the College of Fine Arts at Illinois State University, where I also do theatre photography, ocassionally play the piano and conduct musicals, and host theatre trips to New York (along with many more mundane jobs).
I play the piano. I've travelled on the road as a musician with the Roger Reitzel show and was a proud member of the band Jamorizon in the 1980s. Today, I still enjoy playing the piano for background music and accompanying. I love computers, coffee and travel, desire trees and bodies of water, and enjoy teaching.
Authors
This is a collaborative blog and interactive. The comments section is often as informative as the main articles. We also have additional authors who contribute on occasion.
Current and recent contributors include:
Jesper Kristensen
Dan Linn
Danny Chapin
If you'd like to contribute to this blog, contact the editor with an idea of what you'd like to discuss.
Contact
You can contact the editor at:
pete at drugwarrant.com
More detailed contact info available at PeteGuither.com