Via David Borden, an animated Taiwanese news report on Prop 19 with English subtitles, illustrating some of the arguments on both sides.
As Borden notes, if you're not a west-coaster, you may need to be reminded that the bear is a symbol of California.
---

A good Sunday read: How to profit by expanding freedom by Steve Chapman in the Chicago Tribune.
Substance abuse is known to impair clear thinking and good judgment. But it's the people pushing harsh drug laws who seem to be lost in a fog.
---

A frustrating article from the People's Daily Online. Int'l community urged to join hands in addressing drugs problem
Consider the source, of course, but still — it's a bit depressing reading this article and seeing the representatives of country after country, under the guidance of the UNODC, essentially come out and say: "The drug war is a destructive failure, so we all need to band together and have more drug war!"
---

Mid-Coast Forum on Foreign Relations has guest speaker Ira Glasser: The War on the War on Drugs. We don't as often get to hear extended talks on this subject, so this is a nice opportunity.
You can listen to the entire one hour presentation. (I haven't heard it all yet)
Ira is former Executive Director of the ACLU, and is now Board President of the Drug Policy Alliance.
He nicely starts out the talk by going over the lessons of alcohol prohibition.
[Thanks, Tom, for most of these…]
---

ICSDP Report on US Government Data on Cannabis Prohibition, set to music.
http://www.youtube.com/watch?v=FORm4aq9dzU
---

Oh, this looks like fun. Students to Rally with Yes We Cannabis Fire Truck to Sound Alarm For Prop 19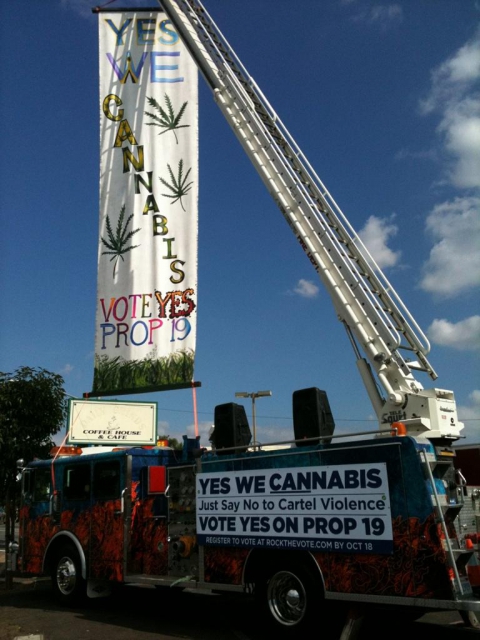 ---
This is an Open Thread