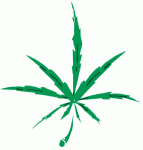 What is it about this simple, natural green symbol that makes people so afraid?
ISU sued for prohibiting logo on pro-marijuana shirt
FIRE (Foundation for Individual Rights in Education) is helping students in the Iowa State University chapter of NORML bring a lawsuit against the university for withdrawing approval to use the university logo on a T-shirt that also has a cannabis leaf. Other official student organizations can use the logo on their shirts, but not if there's a green pointy leaf on it.
I've had some experience myself with university fear of the leaf symbol. At another ISU, where I work, the registered student organization chapter of Students for Sensible Drug Policy ran into a situation some years ago where they were denied permission to distribute flyers in the residence halls for their upcoming Hempfest simply because of the leaf on the flyers. A clear-cut case of unconstitutional content discrimination, yet it took months of bouncing around various administrative offices to resolve the issue.
Some years later, the SSDP group chalked the sidewalks on campus to promote Hempfest, all in proper accordance with university guidelines on how student groups were allowed to chalk. An overzealous administrator, concerned about how that would look to a large group of visiting prospective students and parents that weekend, directed someone at facilities to power wash all of the chalked advertisements. In that case, the university actually apologized to the group for what had been done, which was a real step forward.
It's just a picture of a leaf. Since it represents all sorts of things, including using hemp for industrial purposes, food, rope, medicine, etc., it doesn't solely stand for recreational use. Also, groups using it are often specifically promoting political action (getting people to consider legislative change – a critical part of citizen responsibility), it's not a symbol that means "pro-drug."
And yet that simple image frightens people. It seems to have developed a power that represents an entire cultural movement.
Curious.