Kevin Sabet teams up with The Heritage Foundation for more nonsense: The Marijuana Debate: Time for Reefer Sanity
Ironically, the Heritage site has a pop-up when you go there that asks you to agree that "Big Government is NOT the Answer"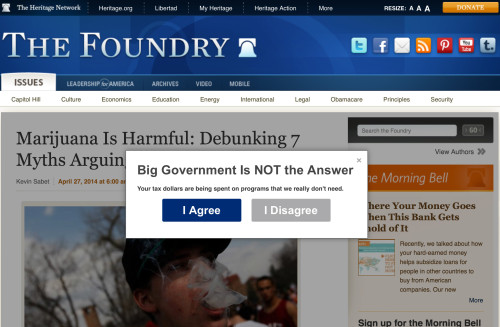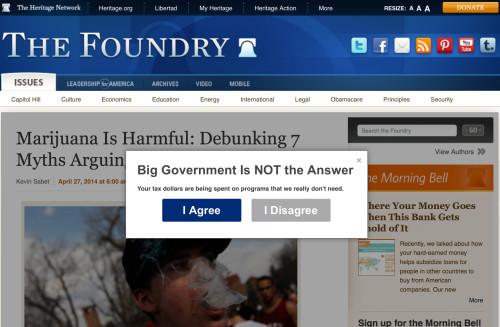 This has always been a blind spot in The Heritage Foundation.
---

Chicago: Officials call for recreational pot use to be legalized
It's time for Illinois lawmakers to move beyond state-sanctioned medical marijuana and, as they say, legalize it.

At least that's according to four Chicago-area Democrats who hold elected public offices. The group held a press conference Monday at the Cook County building, calling for the state to decriminalize marijuana possession and — eventually — legalize recreational use of the leafy plant.

"The main difference between the War on Drugs and Prohibition is that, after 40 years, this country still hasn't acknowledged that the War on Drugs is a failure," Cook County Commissioner John Fritchey said, drawing a parallel with the outlawing of booze in the early 20th Century.
The officials are calling for a task force to study legalization in the state.
---

Illegal roadside search of Star Trek fan brings $100K settlement
Radley Balko updates us on this story. If you haven't watched the video before, it's a pretty blatant documentation of abuse of police power in stopping and searching motorists.