Currently, the Veteran's Administration specifically prohibits their doctors from discussing or recommending medical marijuana for their patients.
This evening, Representative Blumenauer offered an amendment to HR4486 – Military Construction and Veterans Affairs and Related Agencies Appropriations Act, 2015 – that would allow V.A. doctors to recommend medical marijuana to qualified patients in states where it was legal. (background)
The amendment was defeated 222-195.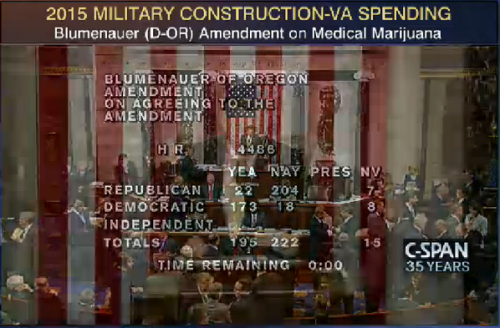 This should outrage veterans everywhere. The lack of attention to veteran care is criminal as it is, but to continue to vote to censor doctors who advise veterans when other citizens can go to their personal doctor and get all the options, just isn't right.
Here's the roll call. A "Yes" vote meant that they wanted to change the law to allow Veterans' doctors to recommend medical marijuana. A "No" vote meant they wanted to continue to censor V.A. doctors.