I consumed some of it today. Right out in public where I could be seen. Savored it slowly and obviously. There was even a police officer there for some other reason… saw me… and turned away, completely uninterested.
It's everywhere – parties, restaurants, stores… A 10-year-old could walk into a store today and purchase a pint (with nobody stopping him), walk out of the store and consume it… and die.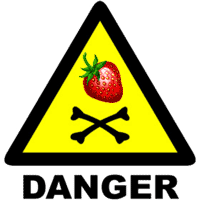 I'm talking, of course, about strawberries.
To those susceptible to strawberry allergies, eating strawberries can lead to death, and yet there is no call for making strawberries illegal. You can find them everywhere! People with allergies have to carefully check the ingredients of all labels because you just don't know when they might have added strawberry to something.
This relates to the disingenuous harping about the link between marijuana and mental illness. We often get caught up in the back and forth of whether there is a causal link or merely a correlation, and the truth is that science just doesn't know enough about mental illness to provide any kind of certainty of a causal link.
And in reality, the fact is that it is an issue that has absolutely no relevance to legalization. It's an issue that may have importance to mental health professionals, but should have no bearing on legalization discussions.
It would be stupid to talk about criminalizing strawberries because some people can die from them. And yet strawberries are not essential to our diet. We can get what we need from other fruits and berries. We could paraphrase Peter Hitchens and say "Nothing of lasting value or importance would be lost if cannabis [strawberries] disappeared from our society." And that would be wrong.
Strawberries are wonderful. Their flavor, their shape, their color, their aroma, the way they mix with chocolate or banana. Outlawing strawberries because of their effect on one small portion of society would be an affront to a free people. So no, we won't outlaw strawberries. What we'll do is put the burden on those susceptible to allergies to be careful of what they consume.
So with cannabis. Even if the unlikely fears are true and cannabis has a causal link to mental illness, then it behooves us to address that with the care of addressing a mental health problem, not with the society-wide sledgehammer of prohibition.
And much of lasting value and importance would be lost if cannabis disappeared from our society — the food value, the fiber value, the medical value, the fuel value, the recreational value, the beauty of the plant, and ever so much more than… the deadly strawberry.