…
Also, see Gary Johnson's OpEd in The Washington Times: JOHNSON: Hitting the cartels where it hurts
Imagine you are a drug lord in Mexico, making unfathomable profits sending your illegal product to the United States. What is the headline you fear the most? "U.S. to build bigger fence"? "U.S. to send troops to the border"? "U.S. to deploy tanks in El Paso"? No. None of those would give you much pause. They would simply raise the level of difficulty and perhaps cause you to escalate the violence that already has turned the border region into a war zone. But would they stop you or ultimately hurt your bottom line? Probably not.

But what if that drug lord opened his newspaper and read this: "U.S. to legalize and regulate marijuana"? That would ruin his day, and ruin it in a way that could not be fixed with more and bigger guns, higher prices or more murder.
You may disagree with his political approach of talking about ending the whole drug war but focusing only on marijuana policy, but you can't deny that he's doing an outstanding job of focusing on the anti-drug-war message in his campaign.
---
Update: You know how practically every mainstream article about marijuana or drug policy has that ubiquitous and anachronistic graphic of the fingers holding a large lit doobie?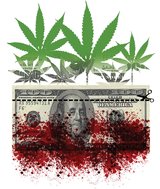 Well, I was fascinated by the graphic that was used instead in the Washington Times OpEd. Much more interesting and relevant.
It's "Legalization" by Alexander Hunter for The Washington Times.
It appears to be a graphic showing that under criminalization, there is an inevitable link between marijuana and huge black-market profits, which then leads to blood and violence. And the scissors and dotted line indicates legalization severing that connection.