LA Times blogger Dennis Romero has demonstrated a bit of a racist sense of humor in the past…
Surprise surprise. Latinos are getting behind the California ballot initiative to legalize pot. You mean the same folks who gave the world Cheech (not Chong), Acapulco gold and the very word marijuana? Orale!
Seems he loves to play with the Latino stereotype…
On Tuesday, he reported some excellent news (with his own special dig at the end)…
The National Latino Officers Association was scheduled to give pot legalization its thumbs up Wednesday morning at the William C. Velasquez Institute in L.A.'s Lincoln Park community.

At the same time, the Yes on 19 folks will release a study showing that Latinos have been disproportionately arrested under current marijuana laws.

According to the study, titled, "Arresting Latinos for Marijuana in California," "In the City of Los Angeles, where one in ten Californians live, police arrested Latinos for marijuana possession at twice the rate of whites."

It also states that from 1990 to 2009, "the marijuana possession arrest rate of Latino teenagers in California more than tripled."

What's the point? To scare the all-important Latino vote into approving Prop. 19, which would allow the 21-and-older set to possess up to one ounce of cannabis.
Note the picture and caption he came up with for that story: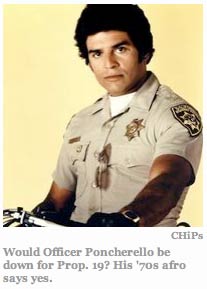 Really?