I was quite pleased to receive the following: Drug War Economic Report – A Compilation of Local Costs of Connecticut's Current Drug Policies, prepared by the Institute for Municipal and Regional Policy at Central Connecticut State University. Dr. Robert L. Painter. M.D. Research Assistant, and Susan E. Pease, Dean, School of Arts and Sciences.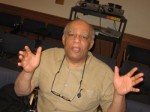 Among the participants joining in the consensus were many Yale students and Clifford Thornton (pictured), a longtime legalization spokesperson, who ran as the Green Party gubernatorial candidate on a pro-legalization, anti-drug war platform back in 2006.
This report does a nice job of isolating drug war figures when it's really difficult to do so effectively, and I think it could serve (as Cliff hopes) as a model for other states.
It's certainly far more accurate than the kind of figures the other side uses, when they tout their "cost of drug use."
I also believe, as the report states, that it is a conservative estimate of the cost to local communities in Connecticut of waging this ridiculous war on drugs.
A couple of minor quibbles.
It costs the United States about $60 billion per year in state and federal money to interdict the supply of drugs from outside US borders. The US population is presently 307.7 million, so this represents an expense of $195 per person per year. For its 124,512 Hartford residents, that represents $24,279,233 per year.
I believe the $60 billion (which appears to come from the War on Drugs Clock) represents a slight overlap with some other costs that are being mentioned in this report. But then again, it's such a loose estimate, that I don't think that's particularly significant.
And then, there's this:
Homicides are a downstream cost that is not easily measured in money terms. In 2008, 35 people were murdered in Hartford. 75-80% of homicides across the country are drug-related. The Hartford Police Department has opined that Hartford's percentage is much higher. If, however, 75% is the correct figure, 26.25 homicides per year are one of the downstream costs of the drug war in Hartford. According to Corso et al , the average cost per homicide is $1.3 million in lost productivity and $4,906 in medical costs for a total of $1,304,906 per homicide. That is equal to $34,253,783 total cost each year attributable to homicides in Hartford.
Overall, the detailing is fine. I just have a personal issue with using "lost productivity" in these kinds of reports. I know that the other side does it all the time, and so it's perfectly appropriate for it to be used here. I just don't like it.
I find lost productivity to be a rather arbitrary and meaningless statistic that is always presented outside of any kind of useful context. Why don't we come up with a number for the "reduced negative impact on the economy" because the dead person is no longer producing garbage? There are all sorts of variables when determining how a person might have affected the world had they lived.
Sure, lost productivity is a real thing, and it shouldn't be ignored, but I would prefer to see it as a side-bar, rather than part of the computations. But that's just me.
Anyway, this is a pretty good report and an excellent model. Check it out.