When I whole-heartedly agreed to publishing Danny Chapin's guest post on marijuana addiction (Marijuana Addiction – guest post and a discussion), I was looking forward to a strong and intelligent response in the comments section from my readers, and I wasn't disappointed in the least.
If you haven't had a chance, please go and read the comments (60 to date), and you'll see what I mean (with a few exceptions).
But I promised to respond, and I will do so now, with the understanding that in many cases, I'll be repeating what has already been eloquently pointed out by readers.

Treatment Statistics
First off, readers were right to pounce on Danny's use of numbers of treatment admissions as indicative of, well, anything. Those of us in the reform community have long been aware of the lie that is treatment admission statistics.
As I demonstrated in Treatment Statistics… or, one more way they lie, marijuana treatment admission statistics are fatally skewed by the fact that treatment admission has become a dumping ground for the criminal justice system as opposed to any kind of actual representation of problem usage.
Take a look at a graph of marijuana admission by percentage. (Note: I've combined "Alcohol/Drug Abuse Care Provider," "Other Health Care Provider" and "Other Community Referral" into "Providers" for an easier-to-view chart.)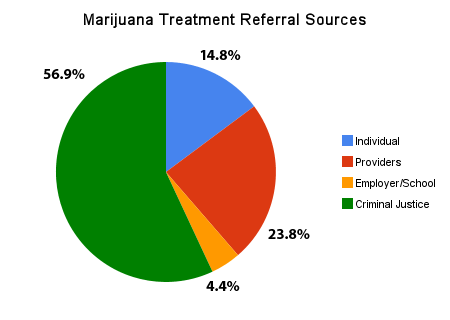 How dramatic. The clear majority are there because of criminal justice referrals. Only 14.8 percent are individual referrals (which also includes referrals from friends and family members, like parents).
Additionally, I know a number of attorneys who advise their clients arrested on drug charges to immediately voluntarily sign up for treatment (assuming they can make bail), with the idea that it may impress the judge and help them get probation. Those would also fall in the individual referral category.
Contrast the marijuana figures with heroin.
Almost completely reversed. A dramatic difference. (Cocaine falls in-between, with 34.0% individual referral and 30.7% criminal justice referral).
With marijuana admissions, it's possible to anecdotally assume that there may be some people in treatment with compulsive behavior that also includes marijuana, but it's certainly not possible to use treatment data to support the existence of any kind of significant levels of marijuana addiction.
In fact, it turns out that lots of people admitted to treatment for marijuana aren't even using marijuana!
According to federal figures, over 37 percent of the estimated 288,000 thousand people who entered drug treatment for pot in 2007 had not reported using it in the 30 days previous to their admission. Another 16 percent of those admitted said that they'd used marijuana three times or fewer in the month prior to their admission.
That's addiction?
I find myself wondering if there's some poor slob somewhere in treatment for marijuana addiction (referred by the courts) who actually never tried pot.
That's gotta make group awkward.
Bottom line. Treatment admission numbers have been thrown around for years, but they're meaningless, particularly when it comes to cannabis.
Is Addiction Worth Discussing?
A couple of commenters thought we shouldn't even mention addiction — that it just feeds into those who would use it as a bludgeon against reformers looking for better policy.
But if we don't talk about it, that just means we won't be part of the discussion, and others will define it. Because addiction (by that name or some other) will continue to be a hot topic. Treatment is too big of a business for it to be otherwise.
And unless we can articulate our concerns with the use of the term "addiction," merely denying it will make us look like we're burying our heads in the sand to the vast majority of people who know someone with a compulsive problem.
We need to help move the discussion of addiction in a positive direction.
Addiction: Diagnosis of a Person or a Thing?
Danny came close to an important point when talking about Leshner.
The negative aspect of drug addiction isn't whether or not marijuana or any other drug makes one addicted physically, but whether or not people will act in uncontrollable, compulsive ways to seek it. It is the determent of this compulsion that is the true face of addiction, disrupting families and ruining friendships. And to this extent, we must ask, not whether marijuana has addictive properties, but whether our citizens use marijuana in a safe, controlled, and independent manner.
Danny says we shouldn't ask whether marijuana has addictive properties — good — and yet, the rest of the discussion goes back to whether marijuana is addictive.
So let's take it a step further. Let's re-word that and take out inanimate objects, along with a few other tweaks…
The negative aspect of addiction is whether people will act in uncontrollable, compulsive ways. It is the battle with this compulsion that is the true face of addiction, disrupting families and ruining friendships. And to this extent, we must ask whether individual citizens are able to function in a safe, controlled, and independent manner.
Still not right, but better. You see, I believe addiction is something that is experienced by an individual, not something that exists within some external object.
Certainly some people can be addicted to sex, but we don't say that sex is addictive, we say that some people have problems with addiction. And that's the best way to view and manage addiction — as a function of the individual.
This doesn't mean that we try to hide the fact that there are differences between different substances. As we work with an individual with problems, we know that a problematic abuse of sex is going to be different (in terms of withdrawal, strength of bond, physical/mental issues) than heroin. But we deal with it in the context of the individual who has a problem (and usually it is a combination of problems for which abuse of a substance may merely be one manifestation of their compulsive behavior).
So to say that marijuana or heroin or video games are addictive really misses the entire point of addiction. Some people may have compulsive problems with one or more of those, and others will not. We need to help those who need help, and not be distracted by labeling objects.
Assisting People or Changing People?
Going back to Danny's statement…
And to this extent, we must ask, not whether marijuana has addictive properties, but whether our citizens use marijuana in a safe, controlled, and independent manner.
That last part scares me a bit, because it seems to assume that there is some group of citizens that can judge whether other citizens are using marijuana in a safe, controlled, and independent manner.
Certainly, I'm in favor of regulating marijuana so that citizens can know that the marijuana they are using is safe, but to determine whether citizens actually are using it in a safe manner is a different question.
In a free society, the default has to go to the individual to determine whether their own actions are safe. Yes, there are times when an individual's actions interfere with the freedom and security of others and then society must intervene, but only in those specific situations.
I would make treatment available for anyone who feels it will help them deal with their personal problems. I would make it extremely difficult to impose treatment upon someone who doesn't wish it (ie, showing of definable harm to others). It should never be handed out like traffic tickets.
This also means that dealing with addiction needs to be more like choosing to get a useful service, much like getting dental work or a chiropractic adjustment, rather than as a criminal justice action. (We don't go after people with bad teeth and say that they have to go to the dentist or they'll be put in jail.)
Addiction and Legality
Danny Chapin concludes with:
If marijuana can be a disruptive, uncontrollable force in someone's life, how do we decide whether or not it should be legal?
That's an easy one. Whether or not marijuana is a disruptive, uncontrollable force in some people's lives should have absolutely no effect on the legality of marijuana.
Because here's the simple truth:
If you believe the government has the authority to prohibit drugs,
it's not enough to say that certain drugs should be illegal because they're dangerous to individuals or society. You must show:

that they are dangerous,
that criminalization actually significantly reduces the danger,
that criminalization is the best way to reduce the danger, and
that the side effects* of criminalization won't be worse.

Otherwise the argument is meaningless.

* corruption of law enforcement, putting drug safety and control in the hands of criminals, over-incarceration and the influence of the prison-industrial complex, enormous black market criminal profits, drug war violence, damage to the environment, destruction of families, damage to inner cities and poor communities, militarization of law enforcement and the victims of drug war tactics, racism and civil rights, erosion of civil liberties, foreign policy disasters, financial cost, and lost of the truth.
An honest assessment of the statement above will make it clear that it doesn't matter what word you use to describe the compulsive behavior of some individuals. There's absolutely no justification for marijuana to be illegal.
…
Again, I thank Danny for being willing to post here and get this discussion going. I'll be offering the opportunity for him to follow-up and rebut or comment on our reactions to his first piece.