Addiction. It's a loaded word. Lots of baggage, lots of uncertainty in its meaning. It gets tossed around a lot in reference to marijuana, from those who claim that marijuana is provably addictive, to those who say there is no such thing as addiction.
Regardless of those views, I think most people would agree that there are some marijuana users whose use appears to most people to be excessive. And whether that's reality or perception, it's still a very real hurdle.
Making this all even more topical, we now have a very real and current controversy regarding the definition of addiction: War Over Addiction: Evaluating The DSM-V
You've heard about the Drug War? Well there's a war being fought over addiction by the Task Force revising the psychiatric bible in the United States.

Called DSM-V, it will be referred to by every therapist, child development specialist, and family court considering mental health issues, as well as criminal court concerning psychiatric defenses. […]

This template for diagnosing our "mental disorders" has been struggling with addiction – like so many of us. The term "addiction" does not appear in DSM-IV. Rather, "dependence" was introduced as a replacement for addiction in the hope of defining the syndrome more precisely and less emotionally.

DSM-V plans to reintroduce addiction.
This is a roundabout way of leading to the real post, here.
Danny Chapin, the managing editor of AllTreatment.com, a directory for drug rehab centers and substance abuse information resource, approached me about having a dialog about marijuana addiction with all of you, as he searches for understanding himself.
I thought it was a brilliant idea. I wanted to hear what he had to say and also get a chance to respond.
So here we go. I'll let you have first crack at it, and I'll respond tomorrow, probably asking Danny for a follow-up post.
---
Guest Post: Danny Chapin
Marijuana Addiction: What Is It? What Does It Mean?
Addiction is ineffable. In American culture, addiction can and is used to mean many different things. Sometimes it's an enemy of war, other times a dramatic and thrilling addition to a popular TV show. There is no standard definition of addiction.
Yet, intuitively we know people who are and can become addicted to certain substances and activities. Alcoholism has always been a familiar face, with heroin, meth and cocaine addiction being more recent phenomenons. And these drugs, because of the intense dependence of their users, are clearly addictive substances.
But the one culprit that has never been tied down is marijuana addiction. Some think the notion is hilarious, while others are seriously concerned with its acceptance in our culture. So the question remains, is marijuana addictive? And what does it mean to be addictive, is it physical or mental or psychological or behavioral? Is the notion ridiculous or misunderstood?
Marijuana Addiction
According to Alan I. Leshner, Ph.D., Director of the National Institute of Drug Abuse, whether addiction is physical or mental is a moot point, and a misunderstanding of the negative impact of addiction(1) . To quote Leshner:
What does matter tremendously is whether or not a drug causes what we now know to be the essence of addiction: uncontrollable, compulsive drug seeking and use, even in the face of negative health and social consequences. This is the crux of how many professional organizations all define addiction, and how we all should use the term. It is really only this expression of addiction – uncontrollable, compulsive craving, seeking and use of drugs – that matters to the addict and to his or her family, and that should matter to society as a whole. These are the elements responsible for the massive health and social problems caused by drug addiction.(2)
Leschner is right. The negative aspect of drug addiction isn't whether or not marijuana or any other drug makes one addicted physically, but whether or not people will act in uncontrollable, compulsive ways to seek it. It is the determent of this compulsion that is the true face of addiction, disrupting families and ruining friendships. And to this extent, we must ask, not whether marijuana has addictive properties, but whether our citizens use marijuana in a safe, controlled, and independent manner.
The Numbers
The 2008 NSDUH survey found that 15.2 million Americans had used marijuana at least once within the last month. This makes marijuana the most commonly used illicit drug in the United States, used by roughly 6.1% of Americans, with variation of use changing only slightly since 2002.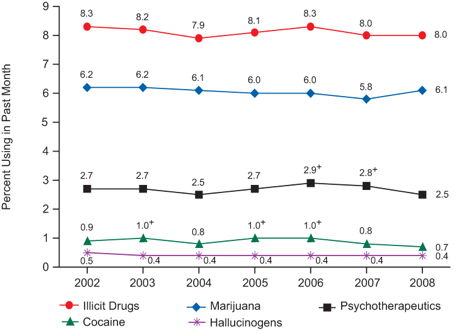 In 2007, there were a total of 305,318 individuals admitted to addiction treatment for marijuana use as the primary substance abused, comprising 16% total drug treatment admissions, only behind alcohol addiction (22.7%) and alcohol addiction with a secondary drug (18.1%). Demographically, 30% of those patients were between the ages of 12 and 17.
This means that in 2007, roughly 2% of people who had used marijuana at least once that year were admitted for marijuana addiction treatment. In comparison, of the 1.9 million users of cocaine in the United States, 178,771 of them were admitted for treatment, making up roughly 9.4% of cocaine users seeking treatment.
The Question(s)
How do we judge this information? Should we say that cocaine's addiction potential is about 4x worse than marijuana's, making it 'less addictive'? Does that comparison matter when we take into account that there are almost 2x as many people attending marijuana addiction treatment than cocaine treatment each year? What makes cocaine addiction a bigger problem than marijuana addiction, or vice versa? Does the low percentage of treatment patients justify a different legal, social, or legislative approach to the substance? And the demographic information, should that impact how we treat marijuana? If marijuana can be a disruptive, uncontrollable force in someone's life, how do we decide whether or not it should be legal?
Sources:
Notes:
Leshner does not argue that physical addiction and physical withdrawal are unimportant, but that the real problem is the disruptive, negative impact behavioral addiction can have, of which physical withdrawal can be just one of many symptoms.