With the Woodstock anniversary and the new Ang Lee film "Taking Woodstock" in the news, that whole "movement" is once again being discussed.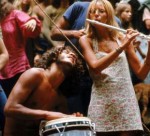 I was too young to really experience the hippy movement. And yes, I wish I had. Oh, I don't mean that I would have dropped out and joined a commune, but I would have liked to have been there. I did go to college in Iowa in the 1970s, which is about when the 60s reached Iowa, so I got a taste, but to have actually been to Woodstock or Haight-Ashbury…. that would have been something.
I realize that as a "movement" it was flawed — perhaps overly idealistic, a little naïve, lacking the follow-through to change the world, but the concepts were just fine: Peace, love, music, inner spiritual exploration, anti-authoritarianism, cultural diversity… and a little pot.
So I'm a bit surprised by the depth of vicious hatred for hippies (and all things hippy) I sometimes see out there.
What particularly caught my attention was a "review" at Breitbart's Big Hollywood (yeah, I know, I shouldn't go there) of Ang Lee's film by John Nolte: 'Taking Woodstock': Mythologizing the Worst Generation. I haven't seen the film, and I have no idea if it's any good, but the review wasn't so much about the film…
In the late 1960s there were young people in college and starting families, young people far from home fighting and dying for the sovereignty of our allies in Vietnam, young people just starting to see results from their brave and noble fight for Civil Rights, and then there were the dirty, filthy hippies – the most spoiled, narcissistic, ungrateful species in the history of mankind – whose legacy of drug addiction, STDs, the misery of single motherhood and 2 million left dead on the Killing Fields of Cambodia, still reverberates forty years on.
Wow. Now that's some hatred. (Check out the comments section for even more.)
There's a lot more of it out there around the web. Some of it seems to be directed against the anti-war movement (that I did participate in somewhat — I was a draft counselor in college) and some seems to just generally be an unreasoning hatred for all things related to hippy culture (the music, the long hair, the lack of bras, the pot, the way they talk, their relaxed attitude, their tie-dying and beads, their lack of body shame, their narcissistic lack of capitalist greed…)
Hmmm…. It's re-awakened the nostalgia for something I never experienced. Now I'm trying to decide whether to drop $50 on: Woodstock: 3 Days of Peace & Music Director's Cut
. Maybe I'll just put on a little Santana while I think about it.
What do you think?