Local officials are optimistic and "excited" that support is building for a statewide law requiring prescriptions to purchase medicine containing pseudoephedrine.

During a roundtable discussion Tuesday with national drug czar Gil Kerlikowske, the issue was discussed and "to a person," participants agreed that pseudoephedrine needs to be controlled through prescriptions, said Washington Mayor Dick Stratman who attended the session in St. Louis.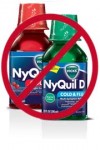 It's bad enough now that you have to go put your name on a register in the drug store during open hours in order to get any decent cold medicine (no more getting Nyquil D in the middle of the night so you can rest — you have to plan ahead to get sick). Now they want you to have to go to the doctor and get a prescription to buy it. Stupid.
Let's assume they actually want to pursue this nonsense — have they thought at all about what is next?
Apparently not, because Mayor Stratman thinks "If we can prevent labs, we can keep people from getting into meth."
Um, no.
Think about it for a minute. What happens when you clamp down on pseudoephedrine here in the U.S.?
That's right! It comes from Mexico instead. Remember Mexico — the country with all the black market drug war profits fueling cartel violence? And you want to give them some more business.
Pseudoephedrine legislation in the U.S. has been referred to as "The Mexican Drug Lab Full Employment Act" and you want to add to it.
So… made pseudoephedrine prescription only and make the common cold more of a problem than it already is, while increasing the black market profits for cartels in Mexico, and doing next to nothing to decrease meth availability.
Yeah, that's what you get when you put a bunch of clueless people in a room together.