Prohibitionists using statistics in false ways to lie is not new. But it's important for us to regularly debunk the lies to keep them from becoming the accepted reality.
One of the most pernicious lies (pushed heavily by the government under the reign of Drug Czar Walters) is the one that says that the numbers of people in treatment for marijuana prove that marijuana is dangerous, or that the increase in treatment admissions for marijuana proves that today's marijuana is more dangerous.
We see this all over the place…
Legalization of marijuana, no matter how it begins, will come at the expense of our children and public safety. It will create dependency and treatment issues, and open the door to use of other drugs, impaired health, delinquent behavior, and drugged drivers.

This is not the marijuana of the 1970's; today's marijuana is far more powerful. […]

Among all ages, marijuana was the most common illicit drug responsible for treatment admissions in 2003, accounting for 15 per cent of all admissions — outdistancing heroin, the next most prevalent cause.
In 2003, 20 per cent (185,239) of the 919,833 adults admitted to treatment for illegal drug abuse cited marijuana as their primary drug of abuse.
From 1992-2006:

There was a 188 percent increase in the proportion of teen treatment admissions for marijuana as the primary drug of abuse, compared with a 54 percent decline for all other substances of abuse.

"The message for teens is clear — today's pernicious pot is not your parent's pot," said Joseph A. Califano, Jr., CASA's Chairman and President and former U.S. Secretary of Health, Education, and Welfare.

"The THC potency in marijuana seized in the 1970s, when marijuana use was most prevalent, was less than one percent; today such potency levels have climbed to 8.8 percent. This increased potency parallels the increases we see in teen medical diagnoses, treatment admissions and emergencies. Parents and teachers, coaches and clergy, all who work with teens, must understand that marijuana is a risky and addictive drug with serious health and social consequences."
Marijuana is NOT a Safe Drug… in fact, it is a VERY DANGEROUS DRUG […]

According to the Department of Health and Human Services TEDS (Treatment Episode Data Set), in 2001 there were 255,394 admissions of people into drug treatment programs who stated that marijuana was their primary drug of addiction (a 176% increase since 1992.)
What is the Evidence? Its use can be very serious, dangerous, and have a profound impact upon the quality of life for hundreds of thousands of Americans and their families. […]

According to the Department of Health and Human Services TEDS (Treatment Episode Data Set), in 2003 there were 284,324 admissions of people into drug treatment programs who stated that marijuana was their primary drug of addiction. The fact is that our treatment agencies are full of marijuana-dependent individuals with personal testimonials to the power and dangers of marijuana. According to the TED Survey, of the two million people admitted into treatment clinics each year as many as 24 percent have reported that marijuana is their primary drug of addiction.
And even today, the notion of marijuana treatment being a big deal continues to permeate discussions of legalization.
Opponents say legalizing pot would create more problems than it would solve.

The public health costs of increased drug abuse would outweigh any financial gain from legalization, Redman said.

"It's a horrible idea, because when you reduce the perception of harm and increase availability, (drug) abuse goes up," Redman said.
Substance abuse programs cost the county and the nation billions, Redman said. Taxing marijuana would not raise enough money to cover the cost of the problems it would produce, he said.
But, of course, the truth is very different.
I first exposed the government numbers on this blog in August, 2004 because I got fed up listening to the nonsense over and over again. I've now updated the analysis with the 2007 TEDS data here. Go check it out — you'll find it quite interesting.
It shows clearly that of all admissions to treatment with marijuana as the principal substance,
Only 14.8% were self-referred (including referral by family and friends). The is lower than any other drug.
56.9% were referred by the criminal justice system (ie, people who got caught with marijuana and were given the option to choose treatment over jail). This is higher than any other drug.
This isn't an indication of marijuana's addictive qualities at all. It's reflective of greater enforcement (simple arrests for marijuana), and the subsequent increase of treatment as a substitute for jail. What makes it even sillier is that 36% of those entering treatment with marijuana as the primary substance of abuse had not even used marijuana in the previous month.
Now, when it comes to the truth about legalization, it doesn't really matter whether marijuana has a high dependency rate or not — the simple fact is that prohibition isn't a useful tool for dealing with dependency and it brings a lot of other destruction. Prohibitionists would like you to believe that legalization will lead to an explosion of increased dependency, yet they have absolutely zero evidence (all evidence tends to point to no or limited increase).
So when they say that treatment statistics prove that we should not legalize marijuana, they are positing information that is both a lie and irrelevant.
Sure, there are some people who have marijuana dependency. But there are a lot in treatment who do not. Legalize marijuana and you probably reduce the rolls by probably most of the 56.9% who were referred by the criminal justice system. Possibly more. Then maybe those who do need help can be better served.
Over 100 million people have used marijuana. Over 14 million used it in the last month. In 2007 only 42,000 were having enough problems with marijuana to feel the need to check themselves in for treatment (or were checked in by family/friends). That means well over 99% did not.
To defend prohibition based on the statistics of treatment admissions is like destroying every house in America that has a basement — merely because one of them had evidence of termites.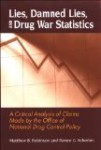 For more reading about how statistics are used to lie in the drug war, see
Lies, Damned Lies, and Drug War Statistics: A Critical Analysis of Claims Made by the Office of National Drug Control Policy
.
For a more accurate and useful presentation of the government's drug war statistics than you'll get from the ONDCP, see Brian Bennett's site: Truth: the Anti-drugwar.