That's the title of today's column in the Washington Post by Peter Moskos and Stanford "Neill" Franklin.
Public drug dealing creates an environment where disputes about money or respect are settled with guns. […]

Legalization would not create a drug free-for-all. In fact, regulation reins in the mess we already have. […]

Drug manufacturing and distribution is too dangerous to remain in the hands of unregulated criminals. Drug distribution needs to be the combined responsibility of doctors, the government, and a legal and regulated free market. This simple step would quickly eliminate the greatest threat of violence: street-corner drug dealing.

We simply urge the federal government to retreat. Let cities and states (and, while we're at it, other countries) decide their own drug policies. Many would continue prohibition, but some would try something new. California and its medical marijuana dispensaries provide a good working example, warts and all, that legalized drug distribution does not cause the sky to fall.

Having fought the war on drugs, we know that ending the drug war is the right thing to do — for all of us, especially taxpayers.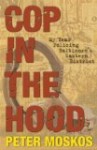 Excellent piece, from the perspective of law enforcement (both are members of LEAP), and in the Washington Post!
If you get a chance, you should check out Peter Moskos' excellent book Cop in the Hood: My Year Policing Baltimore's Eastern District
.