The National Institute on Drug Abuse (NIDA) has been celebrating National Drug Facts Week ("Shattering the Myths") with lots of things posted on social media.
As usual, the only "facts" they're interested in are those that oppose drug use in any way, and even then they're not really concerned about whether they are actually facts.
In one recent tweet, they were promoting their infographic page on drugged driving. Here are the facts as they present them: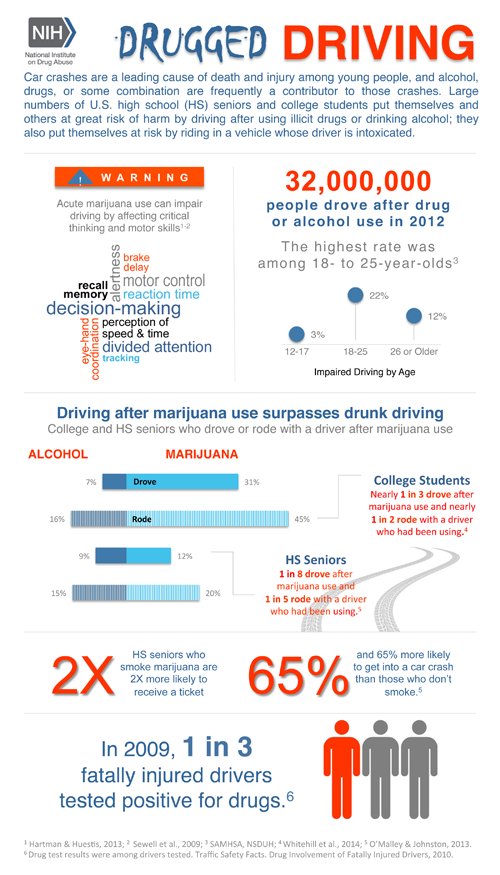 (click on the image to get the full-size pdf file)
Note several things about this infographic:
While drugged driving is supposedly about all drugs (including alcohol), they always spend an inordinate time talking about marijuana, which clearly signals that this is an effort to target marijuana users, as opposed to the issue of drugged driving.
"32,000,000 people drove after drug or alcohol use in 2012." Sounds startling, but what does it mean? How much drug or alcohol use? How soon after the use? Notice then the caption under the chart: "Impaired Driving by Age." See how they conflate use with impairment? Completely unscientific.
"Driving after marijuana use surpasses drunk driving." Note how they mixed the terms. They didn't say "driving after marijuana use surpasses driving after drinking." No, they compared any use of marijuana previously with being drunk. Pathetic.
"HS seniors who smoke marijuana are 2x more likely to receive a ticket and 65% more likely to get into a car crash than those who don't smoke." Here is interesting data completely out of context, and at best a correlation, not causation.
"In 2009, 1 in 3 fatally injured drivers tested positive for drugs." Yep, again, meaningless. No indication of impairment, or causation."
We're certainly not going to get much in the way of "facts" from NIDA during National Drug Facts Week, or any other time.