Terror and Drugs! Good and Evil! Eternal War!
Yes, it's Paul Chabot. Back in April, I mentioned the upcoming release of this former drug czar advisor's book "Eternal Battle Against Evil"
Now it's out. And just in case you're not frightened enough to buy this book and join the fight against evil, check out this video promo.
The cover now proclaims "Caution: Details may be disturbing to some readers." The book is available at Amazon.com, where the reviews are currenly 100% 5-star raves – all from people who have not ever reviewed anything else, and have not bought the book on Amazon (I'm not suggesting anyone do that in reverse – I'm not a fan of using reviews to make a point – but you can always down-vote reviews that are nothing more than sycophantic promotion.)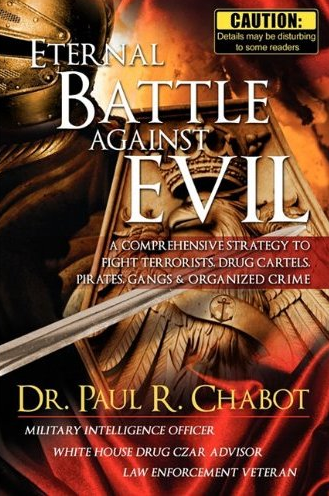 I'm pretty sure I wrote them back in April with this offer, but it still stands… if they send me a review copy, I'll be happy to review it here on Drug WarRant.
[Thanks, Logan]