"I ended the war on drugs, if you didn't know this war was over. That was last May," Kerlikowske said. He characterized the decades-old war on drugs as an empty "bumper sticker," saying the country was ready for a more "complex discussion of a complex subject."

As with the war in Iraq, where combat operations officially ended last week, the fight against drugs continues but in a different form. During a day in which he toured several drug treatment and prevention centers and met with city police brass, Kerlikowske promoted a cooperative approach in which law enforcement, community groups, recovery specialists and job-training providers work together to combat the problem.

"It's not about being soft on crime or soft on drugs," he would say repeatedly throughout the day. "It's about being smart on drugs."
As soon as he said "smart on drugs," the conversation fell apart as first Deputy Director Ben Tucker, and then David Mineta, broke out laughing. Within seconds, the Drug Czar himself joined in, unable to keep the straight face any longer. "War on drugs…over" Tucker chortled.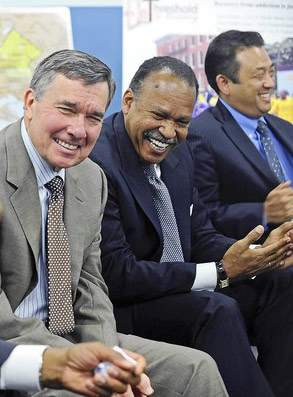 Gil Kerlikowske, Ben Tucker, David Mineta
Aides were pleased to see Kerlikowske smile, saying it was time he stopped taking the job so seriously. "I think it's the first time he didn't look constipated since he took the job," one quipped.
</sarcasm>
Meanwhile…
REYNOSA, Mexico — A car explodes outside a police station, another outside a television station. A gang is suspected of massacring 72 migrants. A prosecutor investigating those deaths suddenly disappears.

Mexico's drug cartels seem to be adopting the tactics of war zones half a world away.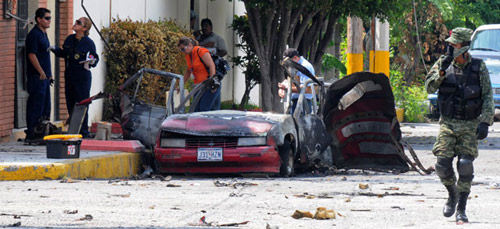 And…
[Thanks, Tom]