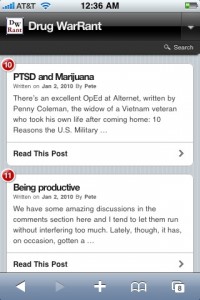 I've added a new feature for Drug WarRant readers who follow the site on mobile devices (iPhone, iPod Touch, Blackberry, etc.). You'll now get a new streamlined version of the site that's a fast download and very easy to read on those devices.
Don't worry — if you prefer to get it the usual way on your mobile device, just scroll down to the bottom and make the switch.
I'd love to hear from any mobile users — let me know if it works OK for you. This change shouldn't have affected anything for regular users (Firefox, Safari, IE, etc. on a computer), so please let me know if, for some reason, you're getting the mobile version when you shouldn't.