Ethan Nadelmann has been selected to be part of Change.org's Changemakers network. He talks about how The War on Drugs is a War on People
Change.org: If you could ask 1 million people to all do 1 thing to advance your cause or causes, what would it be?

Come out of the closet about your drug use. Drug war propaganda demonizes and dehumanizes people who use drugs. Let your fellow citizens – your colleagues, your friends, and your family – know the real face of the American drug user.

We need credible people, especially public figures, to stand up and say, "I contribute to society, I work hard, I love my family, and I am an otherwise law-abiding citizen – but I do not believe that people should be treated as criminals simply because of what they put into their bodies. This law is wrong."

Outstanding video promoting Students for Sensible Drug Policy (about 10 minutes) with a lot of great people in it.
SSDP's national conference will be in San Francisco in March, and they're accepting reservations now (Titled "This is your Brain on Drug Policy." I'm not sure if I'll be able to make it this year given my work demands.

In the Wall Street Journal, A Doctor's Case For Legal Pot by David L. Nathan
So why do I support decriminalization? First, marijuana prohibition doesn't prevent widespread use of the drug, although it does clog our legal system with a small percentage of users and dealers unlucky enough to be prosecuted. More to the point, legal cannabis would never become the societal problem that alcohol already is.

In most of my substance-abuse patients, I am far more concerned about their consumption of booze than pot. […]

The time has come to accept that our nation's attitude toward marijuana has been misguided for generations and that the only rational approach to cannabis is to legalize, regulate and tax it.

California is free to make its own drug laws by Tamar Todd. A timely reminder about the power of the states, even today.
The Times is simply wrong to suggest that California does not have the authority to tax and regulate marijuana. There is nothing in the U.S. Constitution that requires states to criminalize anything. We could scrap our entire penal code tomorrow if we wanted to. States get to decide state law, not Washington. This is why California and 13 other states have been able to legalize and regulate medical marijuana despite continuing federal prohibition.

Certainly, even if AB 390 becomes law, the federal government could still enforce its marijuana laws against California residents. The reality is, however, the federal government does not have the resources to undertake sole — or even primary — enforcement responsibility for state drug crimes. More than 95% of all marijuana arrests in this country are made by state and local law enforcement agencies.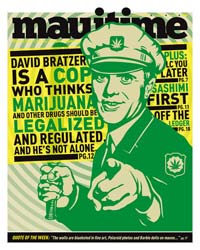 Maui Time Weekly has a nice feature on LEAP with their interview with David Bratzer. He really nails all the points beautifully.

DrugSense Weekly – a weekly review of the most interesting or relevant articles in the press and on the web related to drug policy reform.

Drug War Chronicle – weekly update of drug war news and analysis from Stop the Drug War.org.