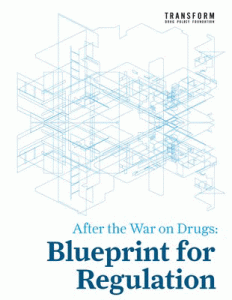 Transform (UK) has, this morning, released their much-anticipated report: After the War on Drugs: Blueprint for Regulation.
The entire 200+ page book is available for free download at their site as a pdf file (there's also an executive summary available).
Steve Rolles and the Transform staff have done a superb job. I haven't read the whole thing in detail yet, but what I have read (and I've skimmed it all) is outstanding. It isn't the end of the discussion — it's the beginning. And appropriately, it doesn't say "this is what we must do with this drug," rather it says "here are some options that could be effective based on empirical data that already exists."
The report recognizes that it will be a process and one that is adjusted based on a variety of factors. It discusses the full range of regulatory options that exist between prohibition and free market.
Rolles also clearly demonstrates, in a wonderful passage on page 6, that calls for regulated legalization are not radical, but rather that prohibition is the radical model.
This publication is a must-have, and the perfect counter to the prohibitionists who claim that we want 10-year-olds to buy heroin in shrink-wrapped packages in machines outside the convenience store.
It's a shame that we don't have any public policy analysts in this country who would have the ability to create such useful models for discussion, rather than just saying we shouldn't discuss it.