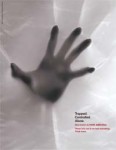 Today, the drug czar unveiled the latest ad campaign: MethResources.gov. Certainly better than an alien stealing your girlfriend if you smoke pot, but I can't help but believe that anti-drug advertising is counterproductive, and not just because it's been badly/laughably done in the past.
Consider cigarettes. While public perception has changed considerably over the years regarding cigarettes, it seems to me that anti-cigarette advertising had very little to do with it. For most of my friends, this ubiquitous ad actually made them crave a cigarette. (Just as studies showed that the Media Campaign ads against marijuana tended to reinforce marijuana interest.)
The government should really get out of the propaganda business and focus on encouraging scientific inquiry.