A big thanks to Tom and Tom (you know who you are), two wonderful people who probably don't know each other, but who are always on the lookout for interesting and/or informative drug war news and send it my way.

The Day the SWAT Team Came Crashing Through My Door by Cheye M. Calvo.
…the wagons have circled in Upper Marlboro. The response is textbook: Law enforcement stands its ground and concedes no wrongdoing — and elected officials burrow their heads in the sand.
Just go and read it.

Ending the 'War on Drugs' by Misha Glenny in the New York Times
I have spoken to countless politicians who agree in private that, as one of them put it, "in 100 years we may look back and ask what on earth were we doing by prohibiting narcotics?" But they remain hesitant to articulate this in public for fear of the opprobrium it will bring.

Supporters of legalization have all but won the moral and intellectual debate, but they now face the most difficult argument of all — the political one. That is unlikely to be won in Washington, where prohibition continues to enjoy powerful support. But we are seeing an erosion of the drug-war consensus in countries like Argentina, Mexico, Portugal and Switzerland — where drugs either have been decriminalized or de facto legalized.

Not high on my must-see-TV list… Community Anti-Drug Coalitions of America (CADCA) is airing a special TV program on September 24 (webcast or C-band) titled Countering the Drug Culture. Hmm, should I watch that, or Weeds?

Venezuela considers shooting down drug planes
President Hugo Chavez said Thursday he's mulling the possibility of allowing Venezuela's air force to shoot down suspected drug planes, but he is not convinced it's a good idea.

"We are studying it. This is something tough. There are countries that have it: authorization to shoot down planes," Chavez said. "I don't like the idea, but I'm thinking about it."
Never forget: Veronica and Charity Bowers

Drug legalisation is no solution – it's a disaster waiting to happen by Neil McKeganey in The Guardian.
This is a particularly stupid OpEd by a "professor of drug misuse research at the University of Glasgow." As several commenters noted, this is trash that is expected in the Daily Mail, not the Guardian.

No Matter How Bad You Think the Drug War Is, It's Worse by Scott Morgan
Just imagine what would happen if the average American actually came to grasp the full breadth of abject unfairness that characterizes the application of our drug laws in every conceivable circumstance. The totality of injustice in the war on drugs is its own galaxy. Even as someone who actively tries to keep track of it, I'm routinely stunned by the magnitude of systemic corruption, callousness and incompetence that festers in every corner of the massive drug war juggernaut.

As advocates for change, we must accept that we can never teach everyone among us to truly understand and appreciate the full spectrum of cruelty and perversion that defines the war on drugs. Fortunately we don't have to….

Odd moment in news gathering… I was browsing through my news reader earlier this week and was struck by this headline: "University Allows Freshman Pot Patients to Live."
Turns out the title had been truncated and the word "Off-Campus" had been left off the end. Much different meaning.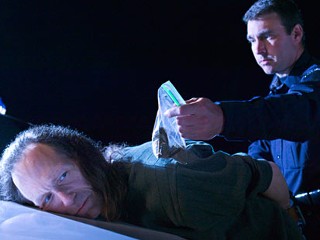 This ABCnews article has a nice quote from Tom Angell in it. But I was also taken with the stock image they used to illustrate the article.
Does anybody else find it odd? First of all, drugs (marijuana?) these days in a quart size zip-lock baggie? Second, shouldn't the guy with his face on the car hood be young and black? Third, the officer's expression is very… Joe Friday.

DrugSense Weekly – a weekly review of the most interesting or relevant articles in the press and on the web related to drug policy reform.

Drug War Chronicle – weekly update of drug war news and analysis from Stop the Drug War.org.