A couple weeks ago, I let you know about an upcoming online event sponsored by Harvard, featuring the Drug Czar.
The audio file from that discussion is now available for download here (WMA file – 55 MB) [Thanks, Tom!]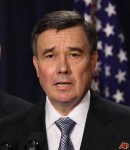 I'm attempting to listen to it. I'm really a text kind of guy (I despise video or audio of talking heads – I don't have the patience, and I'd rather read the transcript, if available). The first part was mostly softball questions and vague answers. Things like how we need to look closely at finding the right balance between treatment and enforcement.
The questions from the field were apparently across the board and included quite a few of what the moderator termed "provocative" questions, some regarding medical marijuana. Gil said that that he's waiting to talk more with the Attorney General and wait for science to help him out regarding medical uses of marijuana (apparently that means that there hasn't been any science on medical marijuana yet) – even to the point of kind of admitting that he was ducking the question.
A good question got asked regarding the fact that many people arrested for marijuana end up in treatment whether they need it or not, taking up spaces that could be used for those who do need it.
The answer (and I think this was the guy with Gil, not Gil himself) was in two parts.
We need more treatment. [paraphrased]
"I think it'd be a mistake to imagine that marijuana is a benign substance. Yes, it's quite true that not everybody that smokes marijuana needs treatment, but a growing proportion of people who seek treatment are those whose major problem is marijuana…" [Let me interrupt there. That's only true if "seek treatment" means "are forced into treatment" and "major problem" means "drug they got caught with."] "… Marijuana's more potent than it's ever been. It exacerbates other kinds of significant medical problems [?!?], and requires treatment. So we want to make treatment available for those people who need it."
Wow.
That was 18 minutes and as far as I was willing to listen. Anybody else want to report on the rest, I'm all ears eyes.
Interesting side note to this. There's some ultra-prohibitionist woman named Linda who does a lot of commenting on some discussion boards and shows up at some events on the west coast — from what I can tell, a kind of local Calvina Fay wannabe. She found my post on the subject, quoted from the comments and seemed fascinated by our ability to be… organized, I guess.
It's interesting to see how it all works. From the time they receive the information, to how long it takes to get the word out to other pro druggies, and how the internet is so important in accomplishing that task.
As long as we're being organized… Oops, we missed this one. The Drug Czar and Loveline's Dr. Drew Pinsky.
[While I failed my job in organizing the druggies, I did manage to squeeze in a question myself before it closed. Won't know until the transcript comes out whether they addressed it. Of course, I asked it using a nom de plume (actually, it was a nom de mal orthographiés).]
Finally, we've got a call for questions from George Stephanopoulos for his upcoming discussion with President Obama on Sunday.