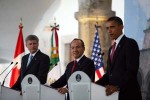 The North American Leaders Summit concluded today. Naturally, it would seem that the drug war in Mexico would be a major item of discussion.
If it was, solutions were not part of the conversation. Obama's remarks were remarkably lacking in substance — keep sending the money, keep up the "police action," oh, and say bad things about the cartels to deflect concerns about human rights abuses.
Regarding the U.S.-Mexico agenda, Obama stressed his support for the $1.4 billion Merida Initiative – aimed at bolstering the battle against drugs in Mexico and Central America – and for Calderon's efforts on that score, even though human rights groups have criticized the Mexican president's militarized approach to the problem.

"I have great confidence in President Calderon's administration applying the law enforcement techniques that are necessary to curb the power of the cartels, but doing so in a way that's consistent with human rights," Obama said in response to a reporter's question.

"The biggest, by far, violators of human rights right now are the cartels themselves that are kidnapping people and extorting people and encouraging corruption in these regions," he added.
Really? That's what you've got? First of all, who needs to be told that the cartels are bad people?* I don't really think that there's a cartel fan club in town.
The point isn't the dastardly nature of the cartels. The point is coming up with policy that actually improves things rather than making things worse.
And it's clear that nothing resembling good policy showed up at the summit.
---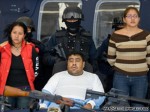 * When I first read the
linked article
about Los Zetas, I thought they had mistakenly put a picture of a Star Wars convention with the article. Then I blew up the picture and looked closer and it scared the crap out of me.