They just can't talk about anything without distorting it.
Once again, the Drug Czar's "blog" in its 2006 in Review: The Drug Problem Gets Smaller post uses traffic figures that no self-respecting blog would use.
ONDCP would like to thank all of the loyal readers of Pushing Back for helping make this blog a success. Thanks in part to you, we are now averaging over 300,000 hits per month!
Note the use of the word "hits." It may be technically true that Pushing Back is getting 300,000 hits per month, if you use server terminology. In that case, every call of the server counts as a hit, so as a single page is loading it could call upon the server dozens or hundreds of times to load images, run scripts, etc. "Hits" may be useful for analyzing the way you organize your site to reduce server overload, but means very little in terms of the number of people who come to read your site.
Most blogs will talk in terms of "page views" or "visits" and those, of course are always rough counts, but at least get a better handle on number of people actually visiting your site. Drug WarRant gets about 1,000 to 2000 page views per day under the Salon tracking. Here are the page views and visits by month for the past year for Drug WarRant through SiteMeter (both systems include a slightly different set of pages and uses different methodology, so there are minor differences in results).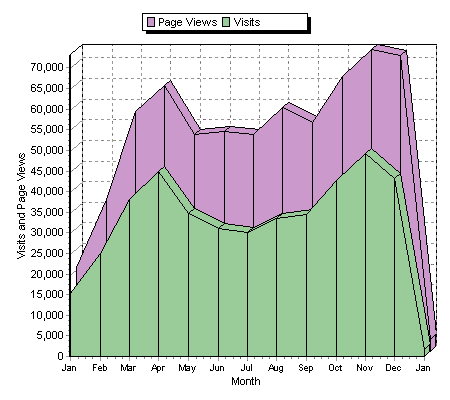 Would PushingBack.com care to share that kind of information? After all, our tax dollars are paying for it. It would also be interesting to see PushingBack's referral logs. For instance, I'm betting that the traffic it gets as a result of this post doubles its usual traffic. If it wasn't for drug policy reformers checking it to see what new lies the Drug Czar is pushing back at us, I doubt that it would have much of a readership at all.
The rest of that particular Drug Czar post about the year in review is just… sad.
If you've followed drug policy news of the past year and then read that post, it's hard not to come away wondering how the staff of the Drug Czar's office can survive such low self-esteem. The extremely odd mix of things they included (and excluded) from their list is a sign of unhinged desperation and a degree of vindictiveness.