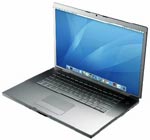 I've been working on the new laptop fund for awhile, and I'd like to thank all the wonderful folks who have chipped in. I've raised a significant amount toward the cost from some incredibly generous donations from readers.
I'm getting an educational discount and I'm taking advantage of a promotion that ends January 30 that will save me a few bucks, so I'll be buying it next week.
And so, I'm putting out one last push for donations. I can cover the remainder from my savings, and I certainly don't want donations from anyone who can't afford it, but if you missed out on donating already, and would like to be part of the laptop, here's your chance.