With the holidays coming up, I wanted to do my part to give you some interesting opportunities for gifts. So Drug WarRant now has TWO comprehensive stores for your shopping convenience.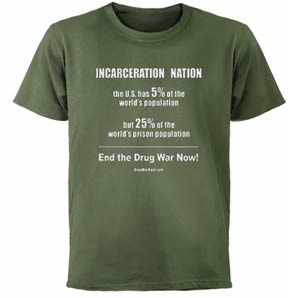 First, there is the Drug WarRant CafePress store, now with the new Incarceration Nation dark shirt line, but still with all of your old favorites, including the DEA Targets America line, the End Prohibition Now items, and the most popular item — our marijuana leaf thong.
Then, we now have the Drug WarRant Amazon store. This is an expansion of our old bookstore page, now with a variety of excellent book recommendations, plus DVDs, CDs, hemp foods and clothing, and other fun products (you can even get that great Pink Floyd Dark Side of the Moon necktie that I wear all the time).
Great deals, great products, and by ordering through Drug WarRant, I get a few cents. It's all good.