"bullet"1 in 32 Americans in jails, on parole
A record 7 million people – or one in every 32 American adults – were behind bars, on probation or on parole by the end of last year, according to the Justice Department. Of those, 2.2 million were in prison or jail, an increase of 2.7 percent over the previous year, according to a report released Wednesday. […]

"Today's figures fail to capture incarceration's impact on the thousands of children left behind by mothers in prison," Marc Mauer, the executive director of the Sentencing Project, a Washington-based group supporting criminal justice reform, said in a statement. "Misguided policies that create harsher sentences for nonviolent drug offenses are disproportionately responsible for the increasing rates of women in prisons and jails."

From 1995 to 2003, inmates in federal prison for drug offenses have accounted for 49 percent of total prison population growth.
"bullet"
The United States has 5% of the world's population…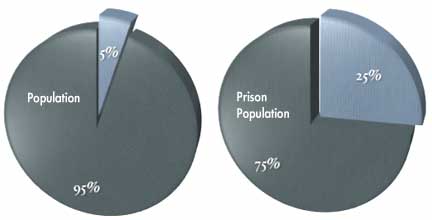 … but 25% of the world's prison population.
We lead the entire world in incarceration rates.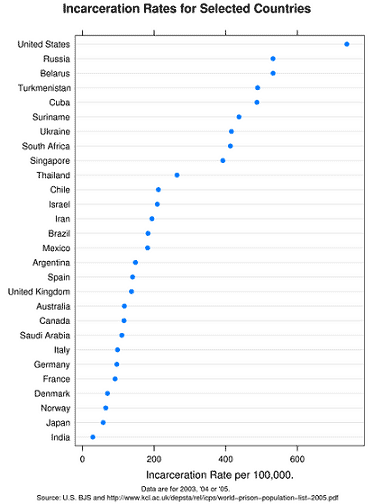 And what the drug war has done to the black community…
In 1993, under Apartheid, South Africa incarcerated 851 black males per 100,000 population.
In 2004, under Prohibition, the U.S. incarcerated 4,919 black males per 100,000 population.
For what?