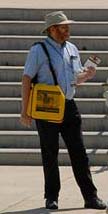 A number of people have wanted to know how the passing out of flyers went at the museum on Friday. So I've got a little story to tell. And you'll learn…
– That the museum personnel know very little about the constitutional right of free speech.
– That if you pay $12 to park, and then pay $11 for a ticket to see the exhibit, and then ask some very cordial and polite questions of museum personnel, a Vice President will come and personally threaten to have you removed from the premises.
– There's also a map with colorful shading.