Feds smoke out largest drug tunnel yet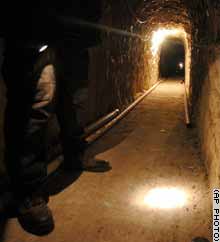 It runs from Tijuana, Mexico, to Otay Mesa, California. […]
Officials said the tunnel is about seven-tenths of a mile (1,148 meters) or more than 1,200 yards long. Initial reports said it is 5 feet high and 3.5 feet wide. […]
Made of concrete, the passageway had lighting, electricity, ventilation and a pump to remove water, said Lauren Mack, a spokeswoman for Immigration and Customs Enforcement.[…]
An investigation is under way to determine who built the passageway.
Sergant Schultz was interviewed by authorities but knew nothing.