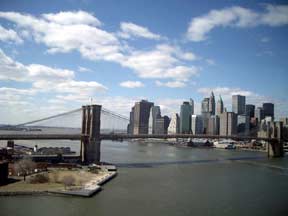 New York was a blast, and there was no time for posting to the blog this past week. We played four-square on the Brooklyn Bridge at 3 in the morning, had incredible bagels at Bagels on the Square, sushi at Japonica, egg drop and wonton soup at Wo Hop, dogs at Gray's Papaya, tiramisu with espresso and sambuca at Ferrara's and a whole lot more. We saw amazing shows: Wicked, Aunt Dan and Lemon, BodyVox, I Am My Own Wife, and Avenue Q. And, of course, we walked all over the city. Some random pictures of our experiences are here.
I would have liked to check out The Marijuana-Logues. Unfortunately previews start at the end of this week and it opens end of March, so I didn't get to see it — perhaps it will still be open in June when I return.
I'd like to say Hello to Will and his friends — one moment during the week when I got to have some stimulating discussions about the drug war. Amazing who you can meet in the subway. Also Hello to Deidre. Thanks for the note. I would love to catch up with you sometime, but it appeared this week was not the time.