Jack Ryan for Senate? No.
I've got to admit I haven't started looking over the Illinois Senatorial candidates yet, so I really don't know anything about them. I plan at a later date to do a little research on their views regarding the drug war. However…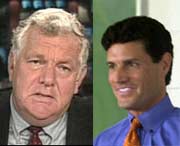 I'm ready to make my first elimination, based totally on guilt by association.
Steve Neal of the Chicago Sun Times reports that Ryan is a fan of William Bennett. According to Neal:
[Bennett] is breathlessly touted by the Ryan campaign as "one of America's most important, influential and respected voices on cultural, political, and education issues"; "one of the nation's most prominent political figures," and an "extraordinary influence on America's political and social landscape."
In actuality, William Bennett is a moralist and one of the chief cheerleaders of the war on drugs, a former drug czar, and mentor to current drug czar John Walters. He is a compulsive gambler who constantly appears on TV to preach about others' vices.
Now I hate to nail Jack Ryan (as a Clancy fan I love the name) simply by association, but in this case, there are only two options:
He agrees with Bennett, which makes his views unacceptable.
He's praising Bennett and inviting Bennett to his fundraiser without knowing about him, which makes him too stupid.
Read the entire Neal article for more about William Bennett.