Tulia – 35 Pardoned!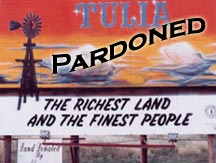 On Friday, Texas Governor Rick Perry pardoned 35 people who had been convicted due to an atrocious abuse of drug war tactics, a corrupt undercover deputy, and prosecutorial misconduct, which resulted in the 1999 arrest of 10% of this small town's black population on drug charges without evidence.
Within hours of the pardons, lawyers for defendants in the case filed a federal civil rights lawsuit naming more than 40 defendants, including the drug task force that supervised the sting and every county belonging to the task force.
For some good background on the case, check out Alternet's article on race issues in Tulia, PBS's Tulia timeline, one of Bob Herbert's articles which brought national attention to the issue, the NAACP Legal Defense Fund work on the Tulia case, and MAPinc list of newspaper articles.
The important thing to remember here is that this is one case. Tulia must be a rallying cry to stop abuses in the war on drugs everywhere. There will be more Tulias as long as our unconstitutional policies continue.