Safe Streets: Our Lawsuit to Block the Legalization of Marajuana
Yep, that's how they spelled it.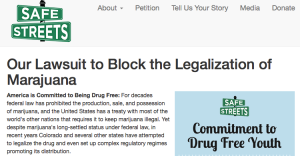 Together with several of its members and others who have been injured by the commercial marijuana industry in Colorado, Safe Streets filed suit in federal court to vindicate the federal marijuana laws. The suit alleges that state and local officials in Colorado are violating federal law by promoting the commercialization of marijuana. Safe Streets is asking the federal courts to order Colorado officials to comply with federal law and stop issuing state licenses to deal illegal drugs.

In addition to suing Colorado officials for giving comfort to the marijuana industry, Safe Streets and the other plaintiffs are also directly suing several prominent participants in the industry itself. Federal racketeering laws give private plaintiffs injured by the operations of a commercial drug conspiracy the right to an injunction, treble damages, and attorney's fees. In addition to shutting down the operations targeted in its suit, Safe Streets hopes that its use of the federal racketeering laws will serve as a model for other business and property owners who have been injured by the rise of the commercial marijuana industry.
What are they doing? Suing on behalf of the Mexican drug-trafficking-organizations? Seems to me that they (and others who profit from prohibition) are the only ones being harmed by legalization.
And, of course, love the beginning:
"America is Committed to Being Drug Free"
and the side-bar
"Commitment to Drug Free Youth"
Um, no. America has never been drug free, and never will be drug free. That's just a nonsensical proposition, like saying that America is Committed to Being Sugar Free, or Bug Free, or Oxygen Free, or Clothes Free.
In fact, American is pretty firmly committed to drugs – lots of them. We buy a third of a trillion dollars worth of legal prescription drugs each year. (yes, that's with a "T"), over 100 billion on alcohol, and over 80 billion on tobacco. And, while the numbers for the next fact are from 2007-2008, one out of every five children reported using at least one prescription drug in the month prior to being surveyed.
So peddle your drug-free somewhere else. It's not welcome here.