For years, suspicionless drug testing has been used to demonize people, not make workplaces safer. And now, we've got some idiots in the cannabis business who are jumping on the drug testing bandwagon. This is really pathetic.
O.penVAPE, the Nation's Largest Cannabis Brand, Will Test Employees for Dangerous Drug Abuse
O.penVAPE, the largest brand in the cannabis industry, has announced it will begin testing its employees for dangerous drug abuse.

Todd Mitchem, O.PenVAPE's chief revenue officer and public spokesperson, said the company wants to lead by example and reinforce the important differentiation between cannabis and other scheduled drugs.

"Unlike dangerous drugs, cannabis can be part of a healthy lifestyle that promotes wellness," Mitchem said. "We always encourage consumers to use cannabis responsibly, and, as such, we have implemented a stringent drug policy for our own employees. O.penVAPE understands that, as the largest brand in the cannabis industry, our view holds weight — and our view is simple: we won't tolerate dangerous drug use by our employees." […]

"We don't want any misconceptions about the goals of our company. We promote wellness and a healthy lifestyle," Mitchem said. "Dangerous drugs have no place in the workplace, and we maintain the right to drug test any of our employees. But we accept a person's right to choose cannabis for recreation or medicinal benefit."
What a stupid move.
Marijuana Majority's Tom Angell called them on it and got this response: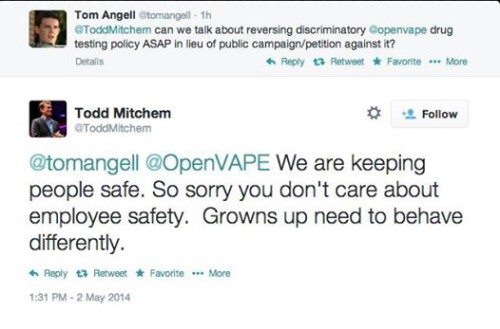 Totally classless, and totally clueless as to the efforts that got him to a place where he can sell cannabis legally.
This is someone who has no principles whatsoever and is just looking to cash in on the cannabis boom. We need to show him that treating people this way didn't work when alcohol was the "good" drug, and it isn't acceptable when cannabis is the "good drug," either.