In Meridian, Idaho, Mayor Tammy de Weerd has taken it upon herself to use tax dollars to spread Reefer Madness to her constituents.
By Executive Order, Tammy established the Mayor's Anti-Drug Coalition (MADC), which received $625,000 from a Drug-Free Community Grant through the federal government.
Tammy doesn't like marijuana much. Note one of her recent blog posts (on the official city website).
It is clear that Idaho is a target of pro-marijuana organizations; as communities we need to take a stand against this occurring […] In addition, we are asking the State Legislature and Governor to send a Joint Memorial to President Obama and Attorney General Eric Holder requesting the federal government take appropriate action to enforce federal drug laws in all states and uphold international treaties relating to the control of illegal drugs in the world.

When the time comes, I hope you will stand with us against efforts to legalize marijuana.
Now a Meridian resident notes that the town has been distributing these anti-marijuana leaflets inserted in the water bill!
Front (click on images for larger version):
Inside: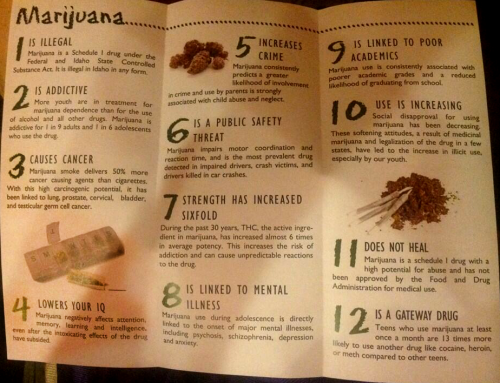 The flyer is full of discredited nonsense, exaggeration, and misdirection. Remember, this is a city government, most likely using federal grant money, to send false information about a political issue in official communications to their citizens. We ought to be outraged.
If only we weren't so used to being lied to by the government when it comes to the drug war.