The Washington Post notes that the Drug Czar plans to outline the drug control strategy today at Johns Hopkins. Nation's drug czar to outline drug policy reform emphasizing public health
"Drug policy reform."
ANNAPOLIS, Md. — President Barack Obama's new strategy for fighting the nation's drug problem will include a greater emphasis on using public health tools to battle addiction and diverting non-violent drug offenders into treatment instead of prisons, under reforms scheduled to be outlined by the nation's drug czar Wednesday.
Well, the strategy is available online now: 2013 National Drug Control Strategy
And right there on the front page: Reform!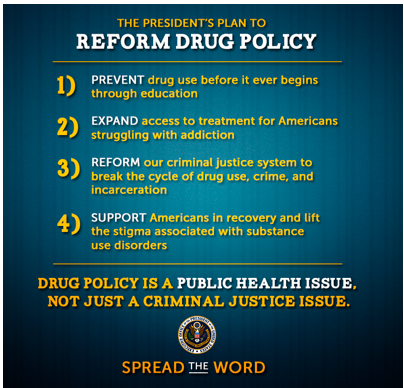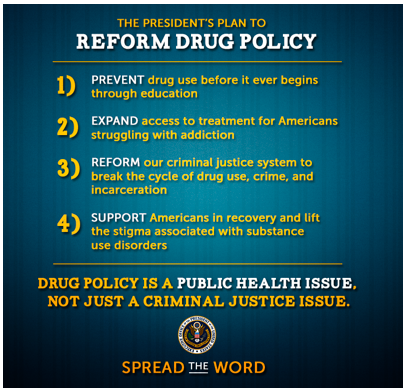 And all throughout, you see the standard buzzwords
"an approach that rejects the false choice between an enforcement-centric "war on drugs" and drug legalization."

"evidence-based public health and safety initiatives"

"collaborative, balanced, and science-based approach"

"emphasizing prevention and access to treatment over incarceration, pursing "smart on crime" rather than "tough on crime" approaches to drug-related offenses"

"While law enforcement will always play a vital role in protecting our communities from drug-related crime and violence, we simply cannot incarcerate our way out of the drug problem. Put simply, an enforcement-centric "war on drugs" approach to drug policy is counterproductive, inefficient, and costly."
Yes, it all sounds good unless you actually look at the budget and see that we're spending just as much on enforcement and supply-side interdiction as we ever have, and we're spending more on those than on treatment and prevention. (We spent 9.4 billion on domestic enforcement in 2012 and they're asking for 9.5 billion in 2014. The FY 14 budget devotes 58% of drug-control spending to punishment and interdiction, compared with 42% for treatment and prevention. Link)
The administration wants to pretend to be drug policy reformers because they know full well that the public doesn't like the drug war.
But all this administration can do is pretend, because apparently the drug war is too valuable to them (politically and/or financially) to even cut a little bit.
I'm reminded again of the line in "Oh Brother, Where Art Thou":
Junior: A lot of people like that reform. Maybe we should get us some.
Yes, maybe you should. But this isn't it.