Cowboy Cop Makes the Conservative Case for Marijuana Legalization at CPAC
"The reactions have been almost 100 pecent in favor of what I'm doing," Wooldridge, who claims he hasn't smoked marijuana in thirty years, tells me. "I've had about three people in the last two days out of about 200 who do not like it." Particularly with this conservative crowd, Wooldridge debates his naysayers in terms of conservative principles. "Personal freedom, personal responsibility, and limited government are what conservatives believe in," he says. "And that's what I believe in. And thats what we should do with marijuana policy. I say, 'Give me a conservative reason to keep it going,' and they dont have any."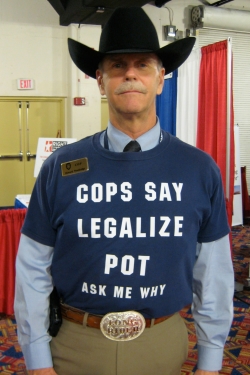 Howard is a powerful force. His ubiquitous cowboy hat and "Cops say legalize" shirt make a statement everywhere he goes, but he also knows how to make a statement himself that resonates with the listener.
This is something that I have taught in my elevator argument workshops. I was thrilled to have Howard attend one of them, but, of course, he's been doing this kind of thing for much longer.
It's about making a quick argument that cuts right to the interests of the person listening and not getting bogged down with arguments that are irrelevant to, or distract from, that single purpose.
We all can take a little bit of Howard and apply it to our activism.