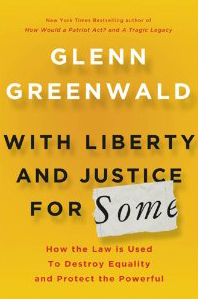 Glenn Greenwald has a new book out: "With Liberty and Justice for Some: How the Law is Used To Destroy Equality and Protect the Powerful."
I haven't completely finished it yet, but I highly recommend it based on what I've already read. Greenwald is one of the very best political writers today and he truly understands the dangers of unchecked government power (wielded by any party).
He makes powerful arguments about how the law has become a tool to increase the gap between the fortunate and unfortunate (through shielding the elite from accountability while constantly increasing criminal justice penalties for the average person), and spends a fair amount of time discussing the involvement of the war on drugs.
It's a powerful book that shows that the war on drugs, as a means to a political end, is not happening in a vacuum (which is something we've already known and is brought home once again on this 10th anniversary of the Patriot Act), but is rather part of a much larger and wider power grab.
Important reading.