I received an interesting comment today back at the post for Book Review: 'Eternal Battle Against Evil' by Paul R. Chabot. It appears not to be from a regular reader of this site — likely got here because of Google… If you google Paul R Chabot, my book review is the very first item. If you Google Eternal Battle Against Evil, it's the second (not bad in such a short time).
Here's the comment:
objective

Guither's review is less than objective and wonder what credentials he possesses to evaluate and comment on drug strategy and Chabot's book. Chabot has been on the front lines and understands the issues regarding ilicit drugs their abuse. Secondly, I wonder how many books Guither has written himself. As far as I am concerned, his comments and three dollars will buy you a cup of Starbucks.
Thanks for stopping by, objective. Regarding my credentials to evaluate and comment on Chabot's book… all I really needed was a working brain. It wasn't hard, because Chabot didn't have a logically working argument.
As far as the number of books I've written, if my review had been about the ease or difficulty of writing books, then that might have been relevant. It was not. I have, by the way, written over 4,700 blog posts about drug policy, which gives me a little bit of experience about writing and some expertise on drug policy.
As far as my comments and $3 buying a cup of coffee at Starbucks, you're absolutely right. And in about 2 weeks, the same price will buy Chabot's book on eBay.
Thanks for playing.
….
objective's comment does remind me of a rather interesting point regarding "credentials."
In a superficial way, on paper it appears that Paul Chabot has better "credentials" than me to discuss drug policy.
Chabot: Iraq war veteran, Experience with Office of Naval Intelligence, Defense Intelligence Agency, Commissioner to the State Parole Board, 15 years law enforcement experience, White House Senior Advisor for Law Enforcement, Justice and Drug Control Programs, Masters in public administration and a Ed.D in executive leadership…
Guither: Master of Fine Arts degree, performance artist and teacher of Arts Administration, who blogs about drug policy on the side.
You can see why a media outlet might be more interested in interviewing him than me.
And yet, I have far superior credentials for discussing drug policy. My knowledge is better than his, my understanding of the various factors, including economic, social, legal, etc. is far beyond his, and my analytical sills are far superior. He certainly knows more than I do about the organizational structure of the AF-DTO, but that's about it.
Of course, part of the credentials having to do with working with the drug czar is really a negative. They'll bring in just about any moron who has drunk the drug war cool-aid to work/advise/intern there (in fact, intelligence is usually a handicap). That's why there are so many ridiculously stupid ex-ONDCP staffers out there commenting on every drug war story.
…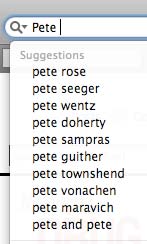 A surprise google tidbit was pointed out by one of my students this week… If you go to any standard google search bar and start to type something, a drop down of suggestions shows up. If you merely type "Pete" and then a space (to set it apart from "Peter"), my name is currently the sixth one to show up in that drop down list… after Sampras but before Townshend.