Today's candidate: Lt. Andrew Hawkes, a 19-year police veteran who has worked in patrol, K9, investigations, narcotics and administration. His book, Secrets of Successful Highway Interdiction, "contains eleven chapters on Highway Drug Interdiction."
Why does the debate continue over marijuana legalization? at PoliceOne.com (comments from registered participants only).
People see that there isn't much upside to legalization. Crime will always be associated with drug use whether it's legal or not. Driving under the influence, thefts, burglaries, and crimes against persons would continue to be related to people using and selling drugs.

In my opinion, if California had passed this into law it would be a matter of time before Mexican drug cartels controlled American production of the drug under legal circumstances. We can control the border violence as it is, what makes us think we could stop the Cartel's from having a legitimized business front to control production in California.
Wow. Just wow. Forget the typos. What does it take to actually imagine this? Let's just look at that second paragraph (have fun with the first yourself)… How would the Mexican drug cartels control American production under legal circumstances? In a legalized market, how does the drug cartel compete economically with an American grower and still pay for their army back in Mexico and the guns and the politicians…?
Perhaps we should focus on taking down the cartels — the violent organized crime units that are committing so much more crimes than just the smuggling of drugs.
Um. We have. And lots of people are dying because of it.
Bureaucrats need to stop all the bullcrap discussions in Washington about "how" to protect our border and just do it.
Just do it? What is this, a Nike commercial? Maybe if we paint a swoosh on the fence, the drugs will stay out.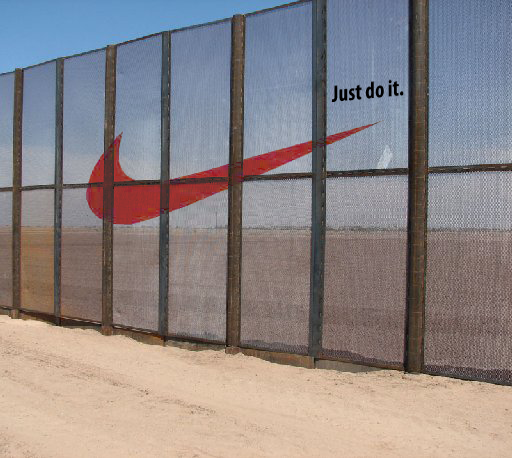 Bonus stupidity: wr134 in comments:
Potheads will still be potheads and will still rob/steal/burglarize to support their habit. Why make it any easier.
Update: Shaleen with LEAP has joined in the comments there, and now so has Howard Wooldridge:
Our Thin Blue Line is getting thinner. We waste some 10 million hours nationally chasing the green plant. Aside from issues like personal liberty and limited govt intrusion in one's house, should detectives be in chat rooms catching pedophiles or flying around in helicopters? BTW, we are currently missing tens of thousands of child cyber porn folks and 400,000 rape kits have never been opened.

In my 18 years as a street cop I went to zero calls generated by the use of pot.