I think it would be interesting if a group of people got together and decided to picket their local drug store chain (Walgreens, Duane Reed, CVS, etc.). Sort of a NIMBY movement to make fun of the fears some people have of medical marijuana moving into a neighborhood.
There's all sorts of creative picket signs that could be made…
– This store sells drugs that can cause anemia, high blood pressure, nausea, suicidal thoughts, and death. Think of the children!

– People buy drugs here and then drive on our streets. Nobody is safe.

– Stop Dealing Drugs!

– We Want a Drug-Free Community. Walgreens Must Go!

– They let airline pilots buy drugs here!

– Walgreens sells Candy and Drugs. They're after the children!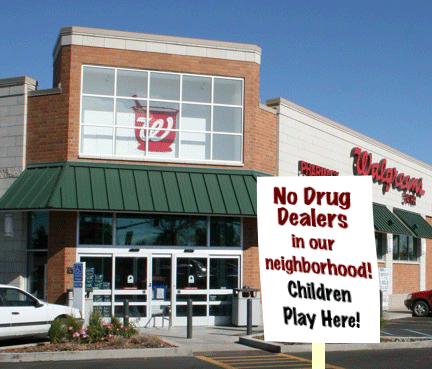 What other slogans could we put on picket signs outside a drug store?