Dr. Julio Montaner, President of the International AIDS Society supports the Vienna Declaration
Remarkably, there is also a critical mass of scientific evidence regarding the unintended negative consequences of policies based exclusively on drug law enforcement. We have to recognize that the war on drugs has not only failed to reduce illicit drug supply and use, but it has also resulted in a range of human rights violations, drug market violence and HIV and HCV epidemics among users.

That being said, this wealth of evidence we have generated over the last couple of decades are being systematically neglected and ignored in favor of a highly prevalent ideologically driven war on drugs.
I'd love to be in Vienna for the conference that starts tomorrow. Last time (the only time) I was there… when I arrived, there was a street fair going on in front of my hotel and an Austrian band was playing "Sweet Home, Chicago." Sweet, indeed.

'Drug law enforcement has entirely failed' — Dr Evan Wood, founder of the International Centre for Science in in Drug Policy, explains why he is calling for a "dramatic reform of drug policy" on BBC.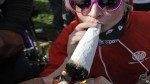 Legalising marijuana: The law of the weed — an article not up to the Economist's usual standards, with an absolutely ridiculous photo.

Oh, yeah, that'll solve it. Schwarzenegger mobilizes National Guard to border
Gov. Arnold Schwarzenegger on Friday mobilized members of the California National Guard as part of a federal effort to deter drug trafficking and illegal immigration along the border with Mexico.

His order supports President Barack Obama's plan to have 1,200 National Guard troops assist with federal border protection, customs and immigration agents.
Good to know that both the Governor and the President have a bunch of extra cash laying around.

This one at officer.com has been around for a little while, but it's quite an amazingly stupid read. Nice to see it taken apart in the comments there. Legalizing Marijuana by Chris Watkins, Narcotics/K9 Ops Contributor. [Link Fixed]

Oh, Nos! You can get high from listening to sound!!!

As Radley says…
Someone needs to tell News 9 and the Oklahoma Bureau of Narcotics that as far as facepalm-stupid attempts to scare the crap out of parents with hysterical "next new drug" stories go, the "digital drugs" thing is so 2008.

Thanks to the regular Drug WarRant readers who came to my show last night and found me and said "Hi." Sorry I didn't get to talk to you more!
This is an open thread.
[Thanks Tom, Daniel, and others]