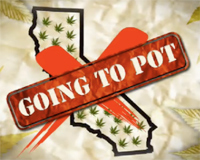 Sometimes I just really get tired. Tired of fighting against all the bullshit and lies. Tired of the fact that for years, prohibitionists have come to the conclusion that they have no need to tell the truth at all. Tired of tracking down and reading through yet another "study" to find out that it's a whole lot of crap wrapped up with a pretty ribbon, so that others can pretend to tell the truth as they peddle their lies to eagerly vapid reporters. Tired.
And yet… and yet.
The lies need to be exposed.
I found out about this Fox News interview video from a tweet from the folks at No on Proposition 19 who were quite excited about it. As soon as I saw the segment's logo "Going to Pot," I knew it would be a bad bit of business. But I wasn't prepared for these two zombie flesh-eaters staring out at me from the video.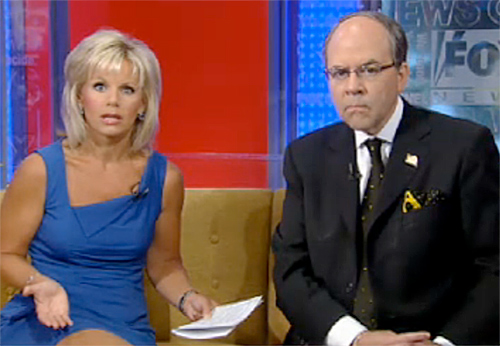 This was just after she said (with wide-eyed amazement):
Who would of thunk, that in 2010, we'd be actually having a debate, about legalizing… pot!… to make up and balance a budget?
And then she actually held that look for a couple of seconds.
My thought, however, was who'd have "thunk," that in 2010, we'd still have idiots like this trying to keep us from legalizing something that should never have been criminalized?
And, not to get off on a rant here, but who are these morons? I guess there's a reason I never watch television news channels and why in particular I use the parental control feature to lock FOX News (Oh, I'll DVR Stossel or Napolitano if they're talking about the drug war, and of course, anytime Balko is on…, but I would absolutely freak if I accidentally flipped through channels in the morning and landed on these two!)
I could understand (not like, but understand) such mindless zombies having an anchor job if they were, well, attractive, but these two are so ugly, their mommas would have to tie a pork chop around their neck to get the dog to play with them.
Anyway, police chief Raney (who's not at all like those two) lays it on really thick. He's not an idiot. Just a deceiver. Here's what he has to say…

This is one of the most devastating initiatives ever to hit California […] It has no chance of taxing or regulating marijuana. […] the effect would be devastating. First of all, you have a work force, where now you have people bringing and smoking marijuana at the workplace…
Out-and-out lies and deception.
He complains twice about the notion that the state won't get money from taxes because it's designed to be taxed at the local level. He doesn't explain why that's bad, however. After all, his city could get tax revenue. But when you think about it, you realize that his drug war gravy train comes from the top (from the state and the feds). This initiative will force him to be responsible to and responsive to the local citizens in order to get funding. None of the Police Chiefs like that.
And then he drops his big bombshell…
There was just a study that was just completed earlier this month by a retired analyst from the National Traffic Safety Authority. He evaluated the five years previous to 2004 and the five years after, where medical marijuana was approved in the State of California. What they've discovered is that traffic fatalities where the driver tested positive for marijuana has increased 100%, and his estimate is that, should this measure pass, that number will increase another 300%.
What?
I can already see where this is heading…. "driver tested positive for marijuana," percentage increases, etc. This will be about cherry-picking minor shifts in data expressed in major percentages that will show no causality, but merely the presence of marijuana smoked at some previous time.
But now I've got to track down the jerk who put together the piece of crap that's being used by the Police Chief to deceive the public. I did, and boy, does it smell.
The folks at the Hive had run into this a while ago. I either didn't hear about it or didn't notice at the time.
A recent study by Al Crancer Jr. a retired research analyst for the National Highway Traffic Safety Administration (NHTSA) has found that that passage of the upcoming California initiative this November "TC2010" as it is commonly known might triple the amount of traffic deaths of marijuana related deaths on California highways. "No one is looking at the effect of the passage of this initiative on traffic deaths and injury," said Al Crancer, Jr. "Everyone is focusing on the tax revenue benefit to the state of California". […]

About Al Crancer Jr.
Crancer lives in Moraga, Californian today is the principal of Crancer and Associates, a statistical research group that conducts research and analyses in traffic safety. In addition, Mr. Crancer has published numerous research articles that appeared in such journals as Science, Journal of the American Medical Association, and the American Journal of Psychiatry.
Clearly a badly written press release, which helped prepare me for what to expect. Crancer and Associates appears not to even have a website and may only exist in Al Crancer's mind. No reputable media picked up the "study" and it seemed destined to die until our intrepid Police Chief showed up.
It took me a little while to track down the study, but I finally found a copy of it at CADFY (You can download it here).
The thirteen page "study" is full of irrelevant data included to make it look more impressive, and I did slog through the whole thing, but the relevant stuff was pretty limited.
So let's see what Mr. Crancer has to say in the abstract…
California data on drivers involved in passenger vehicle fatal crashes using Marijuana were analyzed to determine the impact on traffic safety and to provide information on the possible impact of an initiative, the Tax and Regulate Cannabis Initiative or "TC2010" which is on the California ballot in November 2010 to reform and partially legalize Marijuana.

A total of 1240 persons were killed in the last five years in fatal motor vehicle crashes involving Marijuana. 230 were killed in 2008. Use has increase steadily in the last ten years and is now at 5.5% in fatal passenger vehicle crashes. The use in single vehicle fatal crashes where most drivers are tested shows an involvement rate of 8.3%. The largest increases occurred in the 5 years following the legalization of Medical Marijuana in January 2004.
"Involving Marijuana" = drivers tested positive for marijuana and may not have smoked pot for days or weeks.
For the five years following legalization there were 1240 fatalities in fatal crashes, compared to the 631 fatalities for the five years prior, for an increase of almost 100%.
Ah, that's where Police Chief Kim Raney got the 100% figure. And it's absolutely meaningless. Because it has absolutely nothing to do with any changes in numbers or rates of fatal crashes. It's only about the percentage of people with marijuana in their system and nothing about impairment.
Let's take a look at Crancy's charts and assume they're accurate. [Note, I have not independently verified these charts or the exact wording of the chart elements from the data at FARS – if someone else wants to, have at it, but as you'll see shortly, it's really unnecessary.]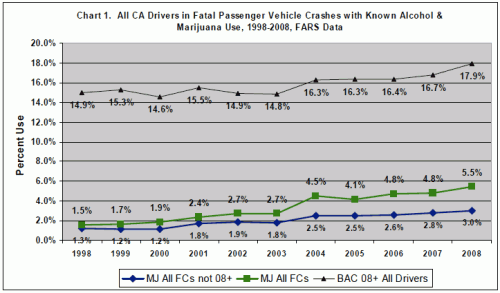 OK, we see an increase in drivers tested positive for marijuana. But it doesn't look all that menacing, and it's not even close to the alcohol figures. Let's look at the single driver crashes, which for some reason Crancy finds more compelling: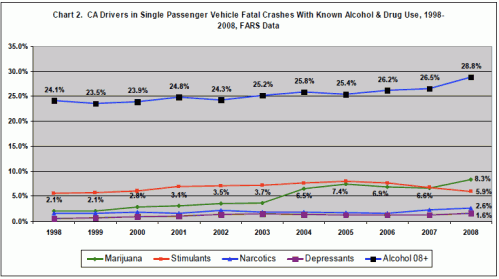 Nope. Not compelling. Yes, there's been an increase in people with marijuana in their system since medical marijuana was legalized. Of course. That's not a surprise at all.
Are you aware that there was a huge increase in the number of traffic fatalities where the driver tested positive for Viagra in the five years after 1998 compared to the previous five years? That's because more people started using Viagra in 1998 when it was introduced.
Are you aware that there has been nearly a 20% increase per year over the past seven years in traffic fatalities where the driver previously had ingested organic foods? Maybe organic foods cause traffic fatalities! Or maybe there has been nearly a 20% increase in organic food consumption each year for the past seven years.
Both of those have as much data validity as Mr. Crancy's absurd speculations.
Now, we can go to the same public government databases that Mr. Crancer used and take a look at all sorts of data. Let's start with one he purposely ignored — the overall rate of traffic fatalities over that 10 year period in California.
The most useful base statistic is number of fatalities per million miles travelled, which, in California has been hovering a little over 1 per year. This is particularly useful because it means that the data isn't skewed by population shifts or changes in driving from gas prices, etc.
Why, I wonder, did Al Crancy leave this critical piece of data out of his report?
Here's what we discover in California: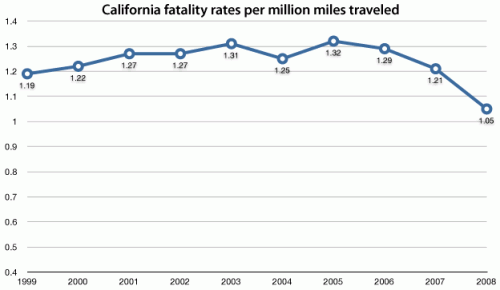 From 1999-2003: 6.26 fatalities per million miles travelled
From 2004-2008: 6.12 fatalities per million miles travelled
That's right. Since the legalization of medical marijuana in California, the rate of traffic fatalities has gone down.
What makes this particularly remarkable is that, while the number of people on the roads in California with marijuana in their system has increased, fatality rates have gone down.
Based on these figures, I predict a further reduction in fatality rates on the highways if Proposition 19 passes.
What makes this even more remarkable is if we take a look at Mr. Crancer's tables again. Note how the percentage of drivers in fatal accidents with a BAC over .08 increased. We know that drunk drivers cause fatal accidents (something that has never been proved with stoned drivers). So, if drunk driving fatalities rates have likely increased, and yet overall driving fatality rates have decreased, that indicates that the increased presence of marijuana in the system of drivers has actually countered or made up for the increased drunkenness.
Hey, it makes as much (in fact a lot more) sense than the conclusions reached by Al Crancer, and is much more supported by the data.
But of course a hack like Al Crancer, Jr. can call himself an analyst, pretend that he's part of an organization that does statistical research, throw together a bunch of data and completely distort its meaning, get another hack like Police Chief Kim Raney to take it to FOX News, and here we are again.
Yeah, it's tiring.