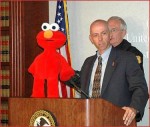 The outspoken head of Denver's DEA operation that clashed with medical marijuana laws in that state, is leaving Colorado for a new assignment. He has been considered by many to be an over-zealous anti-marijuana fanatic, who ignored the new Attorney General's guidelines.
However, he points out that any replacement is likely to be as bad.
"The person who takes my place is going to have the same mission I have," Sweetin said.

DEA agents are sworn to uphold the constitution, and marijuana remains illegal under federal law, he said.
Ummm, hate to break it to you, but federal law is not the Constitution. And in fact, putting "marijuana," "federal law," and "the Constitution" in the same sentence is likely to cause it to explode from the inherent contradictions.