The Desert Springs Equestrian Center in Tucson takes in horses used by drug smugglers to pack in heavy bales of marijuana.
After arriving in the U.S., the horses are often abandoned to die in the desert.
Just one more of the many destructive by-products of prohibition.
Desert Springs nurses the horses back to health, then trains them and looks for adoptive homes.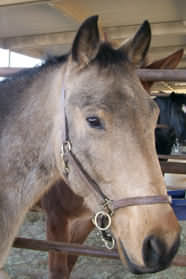 Good for them! Here's the Desert Springs Equestrian Center site.
The horse at right is Homer, one of the former drug trade horses you can adopt.