Of course, the problem with polls is that each one has a different set of data, and the sampling methods and the questions asked are huge factors. And the question asked can have an even bigger effect when you're talking about marijuana, where propaganda has influenced the public's ability to think rationally.
For example, if you conducted two random polls using the following two questions:
Should marijuana be legalized?
Should people be arrested for marijuana?
… I think you'd find dramatically different results. Imagine the results if you asked:
Should marijuana be regulated with age and purity controls, or should it be left in the hands of criminals to manage?
Still, the new poll results from Gallup are encouraging, particularly as they show a consistent direction that is very positive.
The gallup poll has a couple of other interesting points. One is that we've done very with women, with a 12% increase in support from 2005 to 2009 (bringing them now essentially even with male support). That's impressive.
The other point is that we've still got a real uphill battle with Republicans/conservatives. While both categories showed increases in support for legalization, their previous numbers were so skewed that they're still by far the greatest opponents of legalization.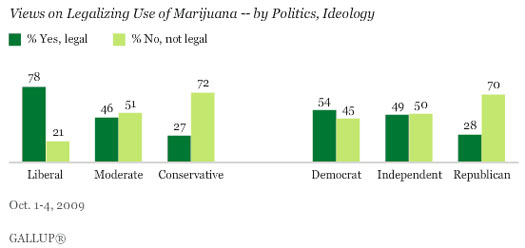 How do we change that?