ENCOD sends a letter to Malaysia asking them to stop killing people for trafficking small amounts of a plant that doesn't kill people.
Many people in Malaysia want to consume cannabis and other drugs, so it is obvious that other people will supply them. Taking the life of people will not change that situation.

Pot legalization gains momentum in California
The state already has a thriving marijuana trade, thanks to a first-of-its-kind 1996 ballot measure that allowed people to smoke pot for medical purposes. But full legalization could turn medical marijuana dispensaries into all-purpose pot stores, and the open sale of joints could become commonplace on mom-and-pop liquor store counters in liberal locales like Oakland and Santa Cruz.

San Francisco mayor (and candidate for the Democratic nomination for governor of California) Gavin Newsom:
"I really feel strongly about the drug war being an abject failure. If you can point to huge evidence that drug polices in this country have worked, I'd love to see that evidence. [..] Low-level marijuana possession, with all due respect to those that will use this video to attack me, is not a top priority for my current job and role as mayor and hasn't been, nor would it be as governor."

California Supreme Court refuses to overturn ruling that OKs collective cannabis cultivation.
…finding that the contribution of collective members may be solely financial, and patients "should not be required to risk criminal penalties and the stress and expense of a criminal trial in order to assert their rights."

Via The Agitator, more than one million people were stopped and frisked in America last year without probably cause.
In Harlem, George Lucas changed his route home from work to avoid a stretch of Seventh Avenue, because he kept being stopped by the police.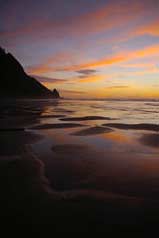 Off-topic. Drug WarRant regular and photographer Allan Erickson has a wonderful 2010 calendar highlighting the beauty of Oregon. It's only $25.

1,000 feet from anywhere. What's the point of needle exchange programs if you have to conduct them in cornfields?

Delightful! Drug Czar complains about LEAP getting more publicity than the prohibitionist law enforcement lobby. Here's the text of the drug czar's speech. Here's the 600+ word letter to the editor(!) by President of the International Association of Chiefs of Police Russell Laine that was rejected by the Washington Post (few papers accept letters that long), responding to this OpEd by Peter Moskos and Stanford Franklin.
Pretty good trick by LEAP's media director — getting the drug czar to mention Law Enforcement Against Prohibition to a large group of law enforcement officers.

DrugSense Weekly – a weekly review of the most interesting or relevant articles in the press and on the web related to drug policy reform.

Drug War Chronicle – weekly update of drug war news and analysis from Stop the Drug War.org.